Partner Manufacturers - Product Information
CS1964 - Aten - 4-Port USB3.0 4K DisplayPort Triple Display KVMP™ Switch *NEW*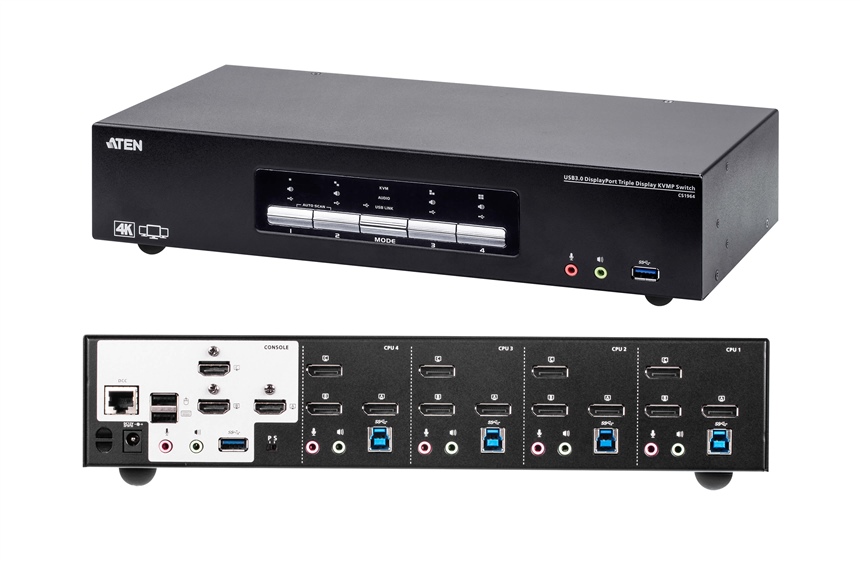 Atens 'CS1964' Triple Display KVMP Switch
Description:
The ATEN CS1964 optimizes your desktop so you can effortlessly manage a triple-display multimedia workstation with instant, user-friendly access to four computers via a single USB keyboard, USB mouse and three HDMI monitors supporting resolutions up to 4K DCI (4096 x 2160 @ 60Hz).

The CS1964 is equipped with ATEN's patented Video DynaSync™ technology – which optimizes display resolution and speeds up switching between systems – as well as built-in USB 3.1 GEN hub for data transfer rates up to 5 Gbps, allowing you to accelerate multimedia operations with ease. It also features N-key Rollover, offering support for up to 15 simultaneous keystrokes without ghosting or jamming.

Integrating all these advanced functionalities, the CS1964 provides a unique advantage for users who need to operate multiple systems and perform multiple tasks across a triple-display extended desktop. The CS1964 especially benefits those doing financial trading, CGI work, graphic design, control center, call center, video post production, gaming applications, and more.


Features:
• One USB keyboard/mouse and three HDMI monitors control four DisplayPort computers
• Supports superior video quality – up to 4K DCI (4096 x 2160 @ 60Hz); HDCP compliant
• Computer selection via pushbuttons, hotkeys, mouse1, and RS-232 Commands2
• Supports N-key Rollover3 (NKRO) – permits collision-free keying
• Video DynaSync™ – an exclusive ATEN technology that eliminates boot-up display problems and optimizes the resolution when switching among different sources
• Supports six displays by connecting two triple display KVM switches
• Built-in 2-Port USB 3.1 Gen 1 hub with SuperSpeed 5 Gbps data transfer rates
• Supports Console keyboard emulation/bypass feature
• Supports Console mouse emulation/bypass feature
• Independent switching of KVM, USB peripheral, and audio focus4
• Supports HD Audio4
• Firmware upgradable

Note:

1. Mouse port switching is only supported under mouse emulation mode and by USB 3-key mice.

2. N-key Rollover supports up to 15 simultaneous keystrokes.

3. HD audio through DisplayPort-HDMI cannot be switched independently.

4. Slide the DCC switch to the s position to allow the KVM switch to receive RS-232 commands via an RJ-45-to-DB9 cable. Please refer to the CS1964 RS-232 Commands document.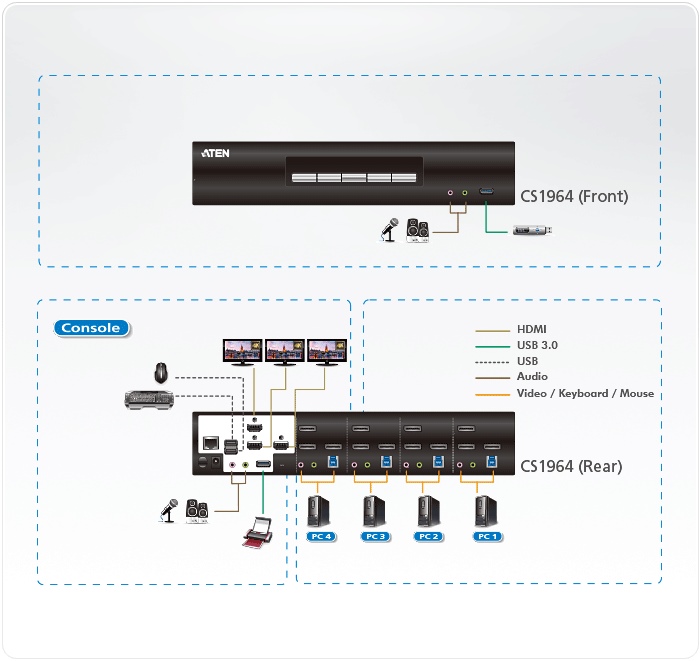 DIAGRAM
Specification:
Package Contents

1x 4-Port USB3.0 4K DisplayPort Triple Display KVMP™ Switch
6x DisplayPort 1.2 Cables
2x USB 3.0 Cables
4x Audio Cables
1x Power Adapter
1x User Instructions

Computer Connections - 4

Port Selection Hotkey, Pushbutton, Mouse, RS-232 Commands

Connectors

Console Ports 2 x USB Type A Female
3 x HDMI Female (Black)
2 x 3.5mm Audio Jack Female (Green; 1 x front, 1 x rear)
2 x 3.5mm Audio Jack Female (Pink; 1 x front, 1 x rear)
KVM (Computer) Ports 4 x USB3.1 Gen1 Type B Female (Blue)
12 x DisplayPort Female (Black)
4 x 3.5mm Audio Jack Female (Green)
4 x 3.5mm Audio Jack Female (Pink)
Daisy Chain Ports 1 x RJ-45 Female
USB Hub 2 x USB3.1 Gen1 Type A Female (Blue; 1 x front; 1 x rear)
Power 1 x DC Jack

Switches

Selected 5 x Pushbutton
Station Selection 1 x Slide Switch
Video 4096 x 2160 @ 60Hz

Emulation

Keyboard / Mouse USB
Scan Interval 1-99 seconds (default: 5 seconds)
Power Consumption DC12V:15.49W:115BTU

Environmental

Operating Temperature 0–50°C
Storage Temperature -20–60°C
Humidity 0-80% RH, Non-condensing

Physical Properties

Housing - Metal
Weight 1.93 kg ( 4.25 lb )
Dimensions (L x W x H) 33.50 x 15.60 x 6.55 cm (13.19 x 6.14 x 2.58 in.)

Note - For some of rack mount products, please note that the standard physical dimensions of WxDxH are expressed using a LxWxH format.


Click here for further information