Partner Manufacturers - Product Information
IECLock Products
Trade Distributor for IEC Lock

Mediatron is a trade distributor of IEC Lock keeping a large and varied mix of these power cables in our UK warehouse, thus allowing you to provide more options of length and colour for your customers. IEC Lock is a unique Locking IEC Connector socket system, Locking Power cables are now recommended to replace almost any standard power cable connection of C13-C14 or C19-C20 to provide the secure power connection in a multitude of applications including Data Centre, Control Room, Broadcasting, Audio Visual, Manufacturing Machinery, Medical, Military, Motor Racing and much more.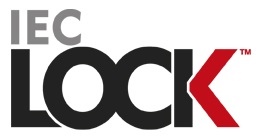 IEC Lock - New Rewireable Connectors
The ORIGINAL IEC Lock - Locking IEC C13 Connector
Low smoke zero halogen C13 connector

Guards against accidental disconnection.

Angled LEFT/RIGHT C13 Connector

Secure connection when space is limited.

C13 Locking Outlet designed to fit PDU

Prevent accidental disconnection at the input.

Angled UP/DOWN C13 Connector

Secure connection when space is limited.
IEC Lock Cables - Locking IEC Power cables
The ORIGINAL IEC Lock - Locking IEC C13 Connector
| | |
| --- | --- |
| Locking C13 - UK PLUG | Locking C13 - C14 |
| IECLOCK Locking C13 | Made with different connectors for adapting or special lengths |
---

TOOLLESS Pull lock easy grip IEC Lock + Locking IEC C13
| | |
| --- | --- |
| IECLOCK + Locking C13 | IEC lOCK + Cables |
---

C19 - Locking C19 Connector Cables ( IEC LOCK C19 )
13 Amp Max Fused

Also available in other colours call for details

16 Amp extension

Also available in other colours call for details

16 Amp adaptor cables

Different lengths, splitter step down boxes and much more
---

PDU's with IEC Lock Sockets built in
Custom products can be made by our leading PDU manufacturers

Call for details on the posibilities
---

Further Information on IEC LOCK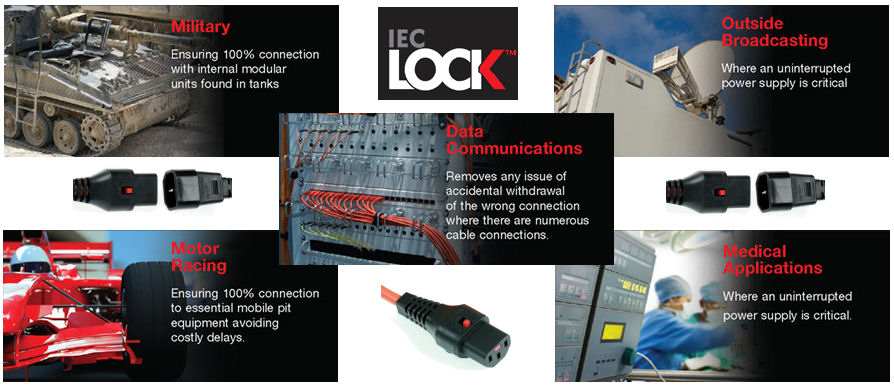 - The Data communications industry requires mainly IEC Power Connections these are available for both 10Amp and 16Amp connections. Locked in power connection's help to reduce accidental disconnection in many Data Centres or in any Data Rack where dense cabling to servers is common place and any disconnection can be highly costly.
- Medical equipment in Hospitals is often vital and it can be critical if power cut's off by a loose connection.
- Mobile Military systems and any moving vehicles, or Marine applications on board ship are constantly under vibration which normally means eventual disconnections, IEC Lock cables are now being used internationally by the Army, Navy and Airforce's as well as onboard many merchant sea vessels.
- The Broadcast industry has many long ground and ceiling layed cable links and these cables often get pulled or kicked out from equipment both indoor and out, IEC Lock solves one part of the problem and is available in high visability colours such as orange or white and blue.
- Motor racing and other sports require equipment to be connected on and ready at all times or that vital time is lost and mobile equipment means a higher risk of pulling cables out.
- Many devices are hard to reach behind and any a power cable coming loose can be a usual problem, so almost everywhere we look and every piece of equipment with an IEC connection is better connected with an IEC Lock cable.
- Mediatron now supply PDU's made with the Burland IEC Locking Socket the matching the same function as the IEC Lock assembled mains cables avaiblable with varied numbers of sockets IEC C13 or C19 and with a choice of supply input connection IND309 16 Amp or 32 Amp, UK Mains Schuko or C20
- Mediatron keep stock available of most common lengths and colours anything else can be specially ordered if required to special lengths, colour or different connector combinations.