Partner Manufacturers - Product Information
About Us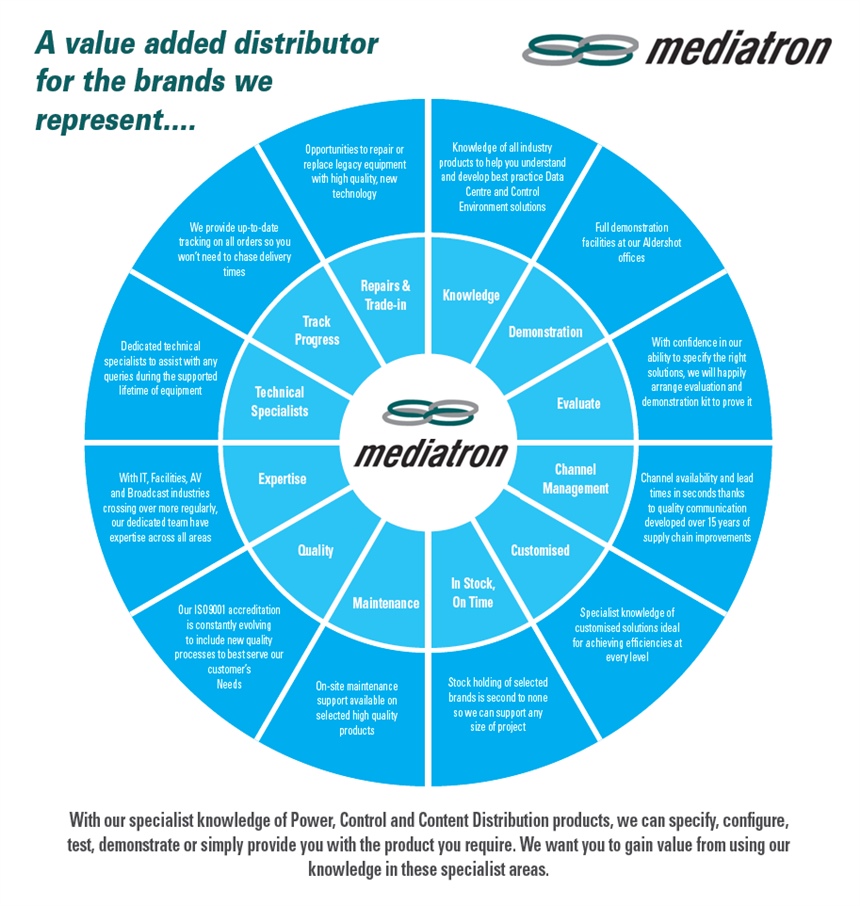 Mediatron is a Distributor of computer and power control equipment in addition to specialist cabling products available to see via online: website or specification sheets or in our Demo room/ retailer-show room. We offer top tier trade only supplier pricing supporting you the reseller. This means we support our resellers/customers with the best stock availability and supply the lowest prices for many leading specialist brands. Guaranteeing the fastest delivery times and lowest possible UK trade pricing to keep you ahead of the competition.
Specialist channel supply lowest discounted level prices and hence there is no visible pricing on this website. We can supply goods directly discretely/plain ship to your client sites and endeavour to always remain behind you in the supply chain. We offer you authorised reseller certification and deal registration all to help us give you even greater supply advantages required for today's competitive market.
Mediatron's technical and management personnel have on average over 20 years of IT industry experience so our knowledge in computer and network communications is across the board. We can provide almost every possible type of computer and power control solution, extended connection solution, plus adaptors, media converters, computer and power cables.
We are the Main Distributors of some of the World's leading manufacturers with complete knowledge of what can and cannot be achieved by any brand and allowing us to put together complementing product solutions. Large stocks again allow us to offer you not only the best knowledge but also fast supply of the best products, and probably the most competitive trade prices in the industry for our selected brands with no tricks, online prices, gimmicks or false promises just backup and support for your company's service. For our chosen leading KVM Manufacturers Adder technology, Raritan, Rose Electronics, Fujitsu, Aten Austin Hughes, we probably hold the largest volume of stock in Europe and cannot be beaten on price or supply to our trade customers. We know if you don't sell we don't sell so we are here to help you all the way.
Not forgetting the vital supporting bits and pieces: We pride ourselves on having the specialist knowledge, which enables us to supply and produce high quality cables to almost any specification this supports the multiple brands of hardware we distribute, making sure your supplied products can be installed easily as required. We supply thousands of cables from stock world-wide for the computer industry and keep to supplying only quality cables made with high-grade components to keep our reputation. When you need specialist cabling products keep us as your first port of call for a high quality high-speed supply and free technical advice.
Previous Awards:
What Just some of our vendors say about us:
"Mediatron have been a valued UK partner for over 10 years. The industry can benefit from the enhanced knowledge and expertise offered by the Mediatron team" Richard May, Raritan Inc. Country Manager UKI & Nordics
"Mediatron have extensive knowledge of KVM and have long been an excellent channel partner for Adder. From a simple switch to specifying high performance command and control systems with ADDERlink Infinity. Mediatron have the knowledge, the facilities, the systems and stock to deliver a quality service to our customers" Simon Clew, Adder Technology Sales & Marketing Director
"Mediatron's knowledge of our product range and the technologies involved, means they are in the best position to help our customers and valued resellers" James Lui, Aten UK Managing Director
"For more than a decade it has been a pleasure to work with Mediatron. They are both in a professional and personal way one of our top partners in the UK." Clifford Broekhuisen, Territory Manager, Rose Electronics
"Mediatron have been a great supporter of our range of cables for a number of years now, keeping large quantities of various lengths and colours in stock for immediate delivery to customers." Tony Hook, OEM Sales Manager, IEC Lock
Mediatron Ltd. Unit 3 Kingstons Industrial Estate, Eastern Road, Aldershot, Hampshire GU12 4YA