Partner Manufacturers
MKLS-NG-CA-SYST2 Minkels VARICONDITION Next Generation Cold Aisle System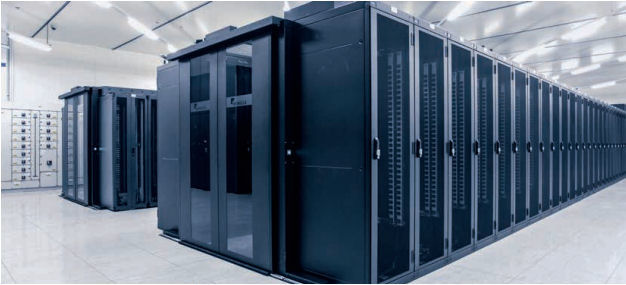 Minkels Cold Aisle Varicon Next Generation System
Description:
Next Generation Cold Corridor

Taking modular thinking in energy-efficient data centre design to a new level.

In 2006, Minkels became the first data centre supplier in Europe to commercially launch Cold Corridor® solutions, in order to separate data centre airflows in an energy-efficient manner. Today, data centre users worldwide have a need for extraordinarily high levels of flexibility in Cold Corridor implementations. The Minkels Next Generation Cold Corridor is the ultimate modular solution to meet your flexible and dynamic data centre construction requirements.
Since 2006, the Cold Corridor system has enabled countless data centres to effectively improve their energy efficiency by separating hot air from cold. As further experience was accumulated from project to project, an increasing understanding was gained of the role of the Cold Corridor within the IT infrastructure. An industry characterised by incessant progress requires ever more sophisticated solutions, such as the Minkels Cold Corridor. Not only has the Minkels R&D department further improved the energy efficiency of its Next Generation Cold Corridor, it has also raised modular thinking in the field of data centre design to a new level.


COLD CORRIDOR PRINCIPLE The basic principle behind the Minkels Cold Corridor is the segregation of hot and cold airflows at row level. Airflow segregation is a vital step towards the achievement of integrated energy saving throughout data centres. However, the two main benefits to be gained by installing a Cold Corridor are:
- Constant air conditions for your IT equipment.
- Considerable energy saving potential.
The fact that air conditions around the IT equipment remain constant also implies that higher inlet temperatures are permissible. The application of higher inlet can therefore increasingly be taken for granted. The ASHRAE specifications widely applied throughout the data centre market are therefore raised on an annual basis. Furthermore, the application of higher inlet temperatures also implies that there is greater potential for the use of free cooling, which yields a reduction in the amount of highly costly compressor operating hours. Experience gained from the numerous projects Minkels has executed in this field has shown the real potential for savings of up to 50%! Constant air conditions around server equipment also substantially reduce the risk of hotspots. This yields sharply increased levels of predictability and reliability for your valuable IT equipment. Minkels has over the past six years acquired a great deal of knowledge and experience in this field. Knowledge and experience that have of course been incorporated in the latest design. Minkels also naturally strives to achieve the highest possible levels of flexibility and modularity. Phased investment and a high degree of flexibility assure you of the most appropriate technical solution at low cost.







Features:
- Modular options based on clients' best practices. Ease of installation.
- R&D based airflow optimization.
- Wide choice of security options and (automatic) door systems.
- Plug & play integration of measuring sensors.
- Adaptable to all kinds of fire suppression systems.
- High level of roof light transmission
~~~~~~~~~~~~~~~~~~~~
Covering:

- Cooling & airflow management
- Security
- Cable management
- Fire detection and extinguishing
- Monitoring

- INTEGRATION WITH COOLING SYSTEMS
-Room cooling in combination with a raised floor.
- Integration of active cooling in the Cold Corridor.
- Airflow management
- INTEGRATION WITH FIRE DETECTION AND EXTINGUISHING SYSTEMS
- Pivot roof panels
- Bushed panels
- INTEGRATION WITH CABLE MANAGEMENT
-INTEGRATION WITH SECURITY SYSTEMS
- INTEGRATION WITH MONITORING SYSTEMS
-FLEXIBILITY Wall system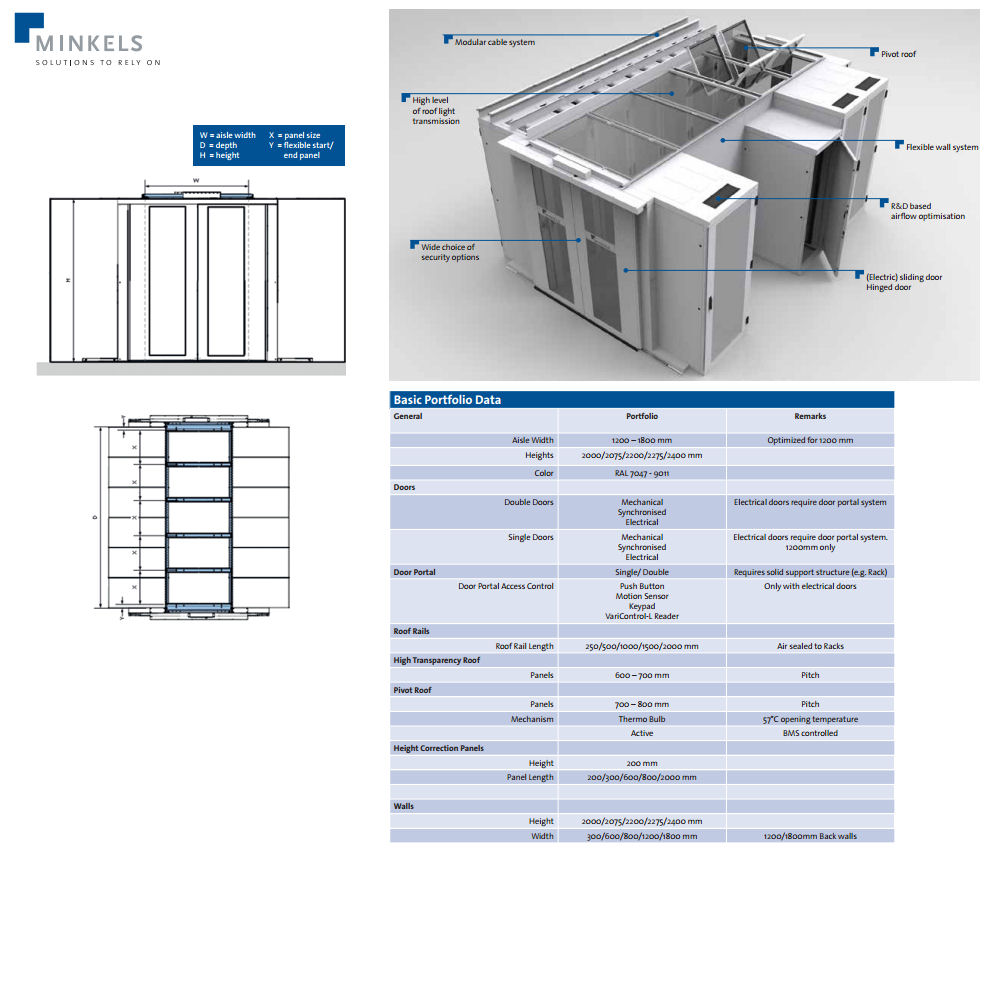 Minkels Cold Aisle Varicon Next Generation System Basic Components
Specification:
The basic Cold Corridor system comprises the following:
Doors: both sliding and hinged doors.
Top panels: top panels are fitted to rails, independently of the server racks. The top is fitted with highly illuminating top panels, enabling light ingress of up to 83%.
Wall panels: in the event that one or more cabinets are missing from a row, or are to be installed later, then the apertures can be closed using a flexible wall system.
SYSTEM INTEGRATION Minkels' clients increasingly express the need for complete system integration. The Next Generation of Cold Corridor caters closely to such needs. Complete integration with the ecosystem in and around the Cold Corridors has also been taken into consideration.