Partner Manufacturers - Product Information
PX3-1493V - Raritan - 1PH, 230V AC, 32A, 24 outlets: 20 x IEC-C-13, 4 x IEC-C-19 plug: IEC60309 32A, 7.36kVA, zero U vertical PDU, Ethernet, serial, 2 x USB-A, USB-B and sensor connections (PX-1000 Series)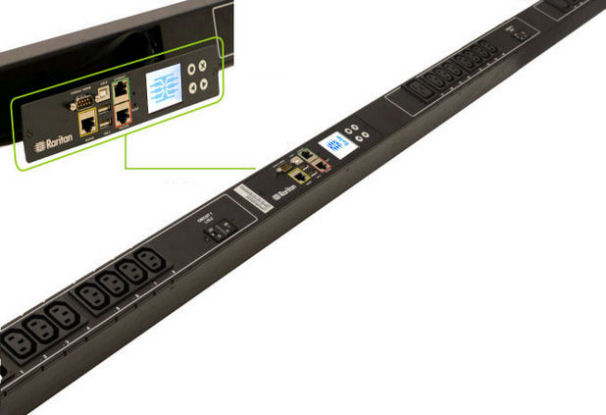 PX3 General Range PICTURE showing management module
Description:
Rack Power Distribution Units for Your Data Center
Raritan's PX3-1000 intelligent rack PDU series offers more than just power distribution -- it's a launch
pad for real-time remote BAR level power monitoring, environmental sensors, data center infrastructure
management, and so much more.

The PX series offers hundreds of models to power all your data center applications, including
high density applications, and 400V three-phase power distribution.

Raritan offers a variety of intelligent rack power distribution models that satisfy all of your
metering requirements. Get certain off-the-shelf models delivered in as little as a few days, or
have your PDUs engineered to meet your unique application.
In the next few pages you'll learn how Raritan was able to take over twenty-five years of
embedded computing expertise and customer insights to reinvent the rack PDU and set the gold
standard for data center power chain management. Find out why some of the world's largest
data centers trust Raritan's intelligent rack PDUs to power their mission critical equipment.

kWH Metering Accuracy
Accurate kWh metering allows you to measure actual energy
usage for accurate customer or department charge-back billing.
The data can be used to encourage energy efficient behavior
among users, establish power consumption baselines, and analyze
the effect of efficiency initiatives.
Soaring energy prices, greater competition in the marketplace, and global concerns over climate
change are forcing companies to reconsider how they utilize power in the most valuable and
energy intensive resource they own – the data center. It's why data centers are now so focused on cutting operational costs by improving efficiencies, and making optimal use of energy, space, and cooling.
They're also tasked with the most important responsibility of all: to make sure the
data, services, and pplications that we all rely on are always available. Not surprisingly, many of the major strategies being employed to address
these challenges depend on capabilities that were not present in the simple commodity power strips of a few years ago.
Consider how Raritan's intelligent rack power
distribution units (iPDUs) help data centers to achieve those goals.



Features:
Energy Metering
Voltage (V), Current (A), Active Power (kW), Real Power (kVA), Energy (kWh), Power
Factor
Metering Accuracy
ISO/IEC 62053-21 1%
Metering per Input Line
Yes
Metering per Branch Circuit Breaker
Yes
Metering per Output Receptacle
No
Remote Outlet Switching
No
Environmental Sensor Ready
Yes
Networking
10/100 BaseT Ethernet. Optional WiFi (802.11a/b/g/n)
Remote Management
HTTP(s); SSH; Telnet; RS-232 (Serial); Power IQ; SNMP version v2/v3; SMTP; JSON-RPC
Cascading
Yes
Max 8 PDUs can be daisy chained using a single Ethernet connection
Onboard Display
User-selectable display (voltage, current, or active power:per line, per breaker, or per
receptacle)
Compatible Sensors
Temperature, Humidity, Air Flow, Static Pressure
Single cable connection provides temp/humidity monitoring
at three points in cabinet (with a single sensor assembly

PX3-1493V line drawing xl616
Specification:
PX3-1493V

1PH, 230V AC, 32A, 24 outlets: 20 x IEC-C-13, 4 x IEC-C-19 plug: IEC60309 32A, 7.36kVA, zero U vertical PDU, Ethernet, serial, 2 x USB-A, USB-B and sensor connections

INPUT
Input Plug
IEC 60309 2P+E 6h 32A 2P3W (L1/L2/E)
IP44("splashproof") (230V, Single phase)
Cord Length
3 meters (9.84 feet) standard
Cord Entry
Bottom-bottom feed
Cable Type
2P 3W
Number of Power Cords
1
Maximum Input Current
32A (per line)
Nominal Input Voltage
230V, Single phase
Rated Input Voltage
200 - 240V, Single phase
Input Frequency
50/60Hz
Power Capacity
6.4kVA at 200V, 7.7kVA at 240V

OUTPUT
Nominal Output Voltage
230V
Rated Output Voltage
200 - 240V
Output Connections
a. (20) IEC 60320 C13 2-pole, 3-wire; 10A
b. (4) IEC 60320 C19 2-pole, 3-wire; 16A
Overload Protection
(2) 16A 1-pole LEGBXA6-16 circuit breaker
Cable Retention
Raritan SecureLock
TM
Ready
Optional retention clips are also available

Dimensions (W x D x H)
2.1" x 2.2" x 60.6" ; 52mm x 55mm x 1539mm
Color
Black powder coat
Mounting
Tool-less button mount

Operating Environment
5 - 60°C (41 - 140°F)
Operating Relative Humidity
5-85%
Operating Elevation
0-10000ft

Regulatory Approvals
CE
Canada ICES-003, Class A
Part 15 Class A of the FCC rules
RoHS compliant