Partner Manufacturers - Product Information
KWX-N16A10C3-H4 PDU eX KWX-N4 Range PDU 10x C13 Locking Outlets, 16 Amp Feed. Monitoring Per Port and Switching ( 19" Horizontal rack mount ) FUSED PROTECTION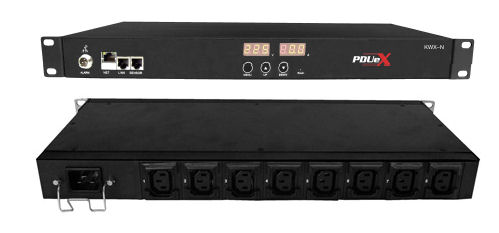 PDU eX KWX4 8port Units range example picture
Description:
KWX-N4 series is the new generation of PDU. It combines network power distribution, environmental monitoring technology and provide real-time remote power consumption of total current load and voltage. Outlet Metered, Outlet Switching, KWX series can be accessed via LAN/WAN or over serial interface. KWX-N series is a remote monitor PDU with
embedded multithreading inner core RTOS (Real Time Operating Systems), that supports multitask and multiuser access. The software supports various TCP/IP protocols,
including HTTP, HTTPS, SSL, SNMP, TELNET, SSH, SMTP etc.
Provides: Sensors recognition, Ability to cascade up to 4units, Monitor the total current, Monitor the total kWh, and Monitor the input voltage
Alarm settings: Total current limit, Temperature limit, Total current over limit alarm, Humidity over limit alarm, Smoke Alarm, Water logging alarm, Infrared enter alarm, Door
open alarm
It offers: Monitor only PDU Power consumption, No Switchable, Power factor recognition, Monitor the input voltage, lockable IEC C13, Dry connection.
Optional: Temperature and humidity, Smoke alarm, Water logging alarm, Infrared alarm, Door open alarm.
Features:
KWX-N: PDU Solution with embedded Environmental Monitoring Technology
 Monitor Temperature and humidity,
 Monitor Smoke
 Monitor Water logging
 Infrared Monitoring
 Door open Monitoring

KWX Range IEC C14 locking outlets
Specification:
1. Item Description
2. Product series KWX-N series – 4 Outlet Metered, Outlet Switching
3. Product Size W x D x H= 19" x 206.9 mm x 44.45 mm
4. Mounting length 465 mm
5. Case color Black
6. Net Weight 2.8kg
7. Maximum Height 40mm
8. Maximum Width 445mm
9. Maximum Depth 225mm
10. Shipping Weight 3.6kg
11. Shipping Height 100mm
12. Shipping Width 510mm
13. Shipping Depth 360mm
14. Socket type
8 x Lockable IEC 320 C13 10 A
Plug/
Cable
16A C20 input with "Y" clip cable retainer

Working voltage Normal working AC90~250V
Input/output current Max input/output current 16A
10A
Working band Under normal working 47~60Hz
Access port
Net port Via WAN or LAN monitor access 10/100Mb
Adaptive Networking
Serial port Via Serial port monitor access RS485 port
Sensor port Sensors access RS485 port
Access way
HTTP/
HTTPS Web browser access Adapt IE、Firefox inner core browser,
support SSL;
TELNET Simple command lines access /
SSH Encryption command lines access Support SSHV2 version
SNMP Support SNMP for centralized monitor Adapt SNMP v1、V2
Operation system
compatibility Support various operation system Windows/winsta/win7/linux etc.
Secondary development
Used for system integrate Opening protocol TELNET、SSH
RS485 Customized protocol.


Software upgrade
Manage software load Support manage software upgrade
Software on circuit Support software upgrade on the
circuit of hardware
Control
Control each outlets on/off Each outlet breaking capacity 16A
250VAC
Sequential power on/off
The interval of sequential power off
time: 0.5s, Sequential power on
1~250s, user-defined
Power status retention When PDU restart power, Each
outlets will retain the previous before
Monitor
Inspect the fuse status of each ports Monitor when fuse break or outlets
can't be controlled Optional
Monitor the input voltage
Resolution:1V
Accuracy: ±1%+1 digit
Meter range: 90~350V
Monitor the total current
Resolution: 0.1A
Accuracy: ±1%+1 digit
Meter range: 0.1~40A
Monitor each sockets current
Resolution: 0.1A
Accuracy: ±1%+1 digit
Meter range: 0.1~20A
Monitor the total kwh Resolution: 0.1KW·H
Accuracy: 1 grade
Monitor Environment Temperature
Resolution: 1℃
Accuracy: ±1%+1 digit
Meter range: -30~100℃
Optional
Monitor Environment Humidity
Resolution: 1%
Accuracy: ±1%+1 digit
Meter range: 01~99%
Optional
Monitor Environment Smoke Max: 25 ㎡ available Optional
Monitor water logging Water logging or drop monitor Optional
Infrared monitoring The max monitor distance: 16m Optional
Door open monitor Min. 5mm open distance available Optional
Surge protection failure monitor PDU still normal working when
failure Optional
Alarm limit setting
Total current limit
Auto identify limit rationality
Each ports current limit
Temperature limit
Humidity limit
Outlets alarm
Each fuse failure alarm
KWX-S/KWX-N series local alarm
ways: PDU buzzer alarm, sound and
light alarm, Dry connect;
KWX-N series remote alarm: E-mail,
SMS, SNMP TRAP, WEB page
notice, TELNET/SSH notice
Optional
Each outlets current over limit alarm
Total current over limit alarm
Temperature over limit alarm Optional
Humidity over limit alarm Optional
Smoke Alarm Optional
Water logging alarm Optional
Infrared enter alarm
KWX-N series remote alarm: E-mail,
SMS, SNMP TRAP, WEB page
notice, TELNET/SSH notice
Optional
Door open alarm Optional
Surge protection failure alarm Optional
Display, Indicate Outlets indicators Each outlets with a indicator Optional
KWX PDU Specification
4
6 digital indicators
Nixietube show the current/voltage,
inquiry products information, Alarm
information;
Manu button operation
Inquiry information Inquiry product information, Alarm
information, current etc.
On/off Alarm sound, Dry connect
Close/ open alarm sound and dry
connect output, Dry connect have
normal open/off two choice, passive,
touch spot can connect 2A 250VAC
Protection
Surge protection
Difference mode:±2kV
Common mode :±2KV
flux: 3KA
The max discharge current: 5KA
Optional
Each way with fuse
Breaking capacity : 1500A;
Protect main line break, facility,
power line suffering, Fuse range:
0.1~16A
Optional
Circuit Breaker protection Breaking capacity : 6000A Optional
Recoverable overload protector Overload protection Optional
Log record Alarm log Alarm log circle, Inquiry, export,
stock, delete available
Management
User right limit Administrator, Normal user
Outlets grouping Make group over PDU self sockets
limit
clock synchronization Regulate PDU system clock
Intelligent recognition
Outlets recognition Automatic read the sockets type and
numbers
Sensors recognition
Sensors port no need be defined,
Automatic read the sensors type and
numbers
Limit recognition When over limit, setting failure
The MAX output current and PDU power Help user to limit facilities connect
number and type
Power factor recognition
Help user to know the current
consuming apparatus
Sensors in 1 ~ 8pcs same or different sensors connect
in one PDU
Flexible sensor input, extend and
choose, Customized for new sensors Optional
Cascade chain
KWX-N with KWX-N Cascade Directly connection via net cable;
Via HUB ,4 sets Cascade at most
KWX-N with KWX-S Cascade Directly connection via net cable, 4
sets Cascade at most