Partner Manufacturers - Product Information
PUK-IECL-C19-BK-0.5 IEC Lock 0.5 Mtr Power Lead UK Mains 13 Amp Plug 5 Amp fused - Locking IEC 320 C13 Socket. Colour Black

UK Mains 13A Plug - C19 IEC Lock connector
Description:
UK Mains Lead with IEC Lock. UK Mains Power 13 Amp Plug - C19 with the unique built in IEC Locking C19 Connector. This locking method works when connected with any standard C20 Plug Connector as found on many devices. Resulting in your active equipment being locked to this C19 Feed cable.
1.5mm Core size, cable limited to 13 Amp use by UK 13Amp fused Plug, Suitable upto 13Amps.
Features:
- Moulded UK MAINS 13 Amp Plug

- Unique' Female C19 Locking IEC connector

- Guards against accidental disconnection of computers, servers and most electrical appliances.

- Suitable for use with 'ANY STANDARD' C20 IEC inlet

- Connector cannot be accidentally pulled or vibrated out of the inlet

- Protects appliances that are vulnerable to vibration

- Custom lengths available 300mm up to any length. Various cables lengths and assemblies are can be available as stock items with further combinations being available for special order.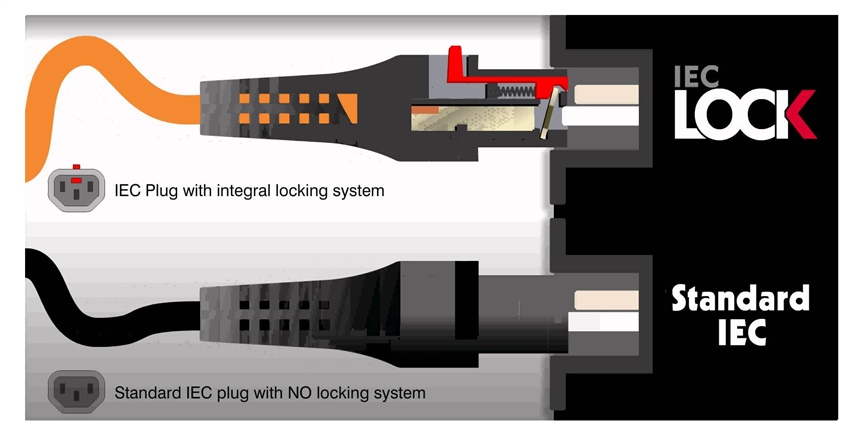 IEC LOCK Cable locking function
Specification:
Cable Assemblies:

• IEC LOCK (C19) to UK
Non-rewireable Plug

• 1.5mm cable cores with Locking C19, cable limited to 13 Amp use by UK Mains Plug 13 Amp fused.

Cable Assemblies:

• IEC LOCK (C19) to UK

Cable Size:

3 x 1.50mm2 H05 VV-F,
3 x 16, 3 x (XX)awg SVT / SJT
Black,

Test Information:

Test Body: KEMA, UL, SAA
Test Standard: IEC/EN 60320-1

Patent Information:

Patents: U.K. Patent
No. GB2383202B
International Patent application
No. PCT/GB02/05714

In the unlikely event of mechanical lock failure or breakage when connected or not connected to equipment the manufacturer's warranty is for 1 year for replacement exchange on products returned only. No responsibility can be held for removal or consequential loses of any kind.

Other versions available include:


• IEC LOCK (C19) to European
(Non-rewireable Plug)
• IEC LOCK (C19) to European (C20) IEC Plug
(Right Angled Schuko Plug)
• IEC LOCK (C19) to NEMA 5-15P (USA)
• IEC LOCK (C19) to Australian 3 Pin Plug
• IEC LOCK (C19) to Stripped Ends


Click here for further information