Partner Manufacturers - Product Information
AH-NS119-TP CyberView NS-Series 19 "SUN LCD KVM Drawer with Sun Keys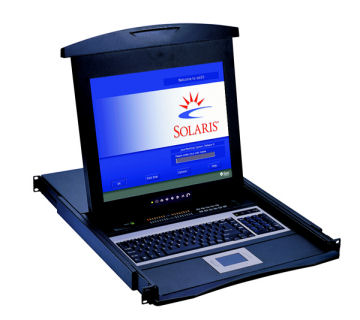 NS117 / 9 Front view
Description:
The NS SUN Next Generation Series 1U LCD, key drawer is availble with either 17 or 19" SAMSUNG Class A LCD panel, the rack drawer is fully compatible with the SUN Micro Native LCD resolution of 1152 x 900. The Full SUN keyboard offers a trackball, 104 key notepad keyboard with full numerical pad and SUN function key support including Stop, Cut, Paste, Compose etc

The drawer is an enhanced version of the highly popular S series with improved aesthetics, a new front panel, single or one man installation rails and a new keyboard with standard numerical pad and the mouse module to the lower centre of the keyboard.

A second user can work securely via a remote keyboard, monitor and mouse either across a Cat5 cable link of 300m within the building or across the World Wide Web using 128 bit secure IP access. This plug and play technology requires no software to be installed on the servers or remote PC's but provides seamless secure access either over Cat5 cable or via IP and a web browser. Secure IP access allows the ultimate server control even to Bios level of your infrastructure.
Features:
LCD Drawer and KVM Benefits
· High density Cat5 KVM
· Cost efficient DB15 KVM integration
· Single or 'One Man' Installation slides for easy, quick installation
· 104 key notepad keyboard with full numerical pad
· Mix PS/2, USB and SUN with Multi- Platform switch capability
· Secure remote user access across the world wide web
Drawer Features and Options
· 1U rackmount drawer with either 17" or 19" SAMSUNG LCD
· Either PS/2 or USB input to the LCD drawer by cable selection
· Slide rails with fixed positions to prevent drawer movement when typing
· Multi lingual on screen display menu



Other versions available in range include:
· UK or US keyboard language selections with either touchpad or trackball

· 12, 24 and 48 volt DC power options
· KVM Switch with either 16 or 32 ports in 1U of rack space


NS117 / 9 Side and Rear Line Drawing
Specification:
-Grade A Industrial TFT LCD Panel
- 17 " 1152 X 900 / 1280 x 1024 LCD with 300 nit brightness and 700:1 Contrast Ratio typical.
- 19" 1152 X 900 / 1280 x 1024 LCD with 300 nit brightness and 1000:1 Contrast Ratio typical.

Product Dims: NS117 & NS119 / 442 W X 650 D X 44 H
Packing Dims: NS117 & NS119 / 589 W X 856 D X 168H

Weight: NS117 - 16 KG / GROSS 22KG
Weight: NS119 - 17 KG / GROSS 23KG

Interface output ports - Combo ( PS2 & USB Ports)