Partner Manufacturers - Product Information
RN2408-UL 19" Patch Panel to Accept 4 x RapidNet Panels 1U ( 24 Port )
Description:
The RapidNet Panel is designed as a frame to receive up to four RapidNet Cassettes with the added benefit of utilising Rack Snaps for easier installation.

Applications

* Open racks and frames
* Cabinets
Features:
* 19 inch 1U or 2U options providing 24 or 48 way ports respectively
* Double labelling feature for sophisticated labelling configurations
* Can be used with the Alpha Snap labelling software
* Metal frame pre-assembled with plastic sleeves for receiving Cassettes
* Fitted with Rack Snaps as standard
* Blanks available if Panel is partially loaded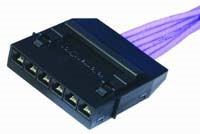 Specification:
* RapidNet patch panels available for UTP and Fibre in either a 1U, 24 ports or 2U 48 port configuration. The Shielded version is only available in 1U 24 port option.
* Panels are supplied separately from the cable assemblies as required for the installation.
* Where the patch panels are only partially populated; blanking plugs are available to fill the voids Rear cable management is integral to the cassette securing the cables within the rear of the cassette ensuring no stress or strain is placed onto the IDC connection.
* All cables supplied with RapidNet are sheathed in a low smoke Zero Halogen material that meets current European standards.