Partner Manufacturers - Product Information
Xceedium XIO-UAG-UP19 SSL-UAG+ software licence upgrade, 250 to 500 user nodes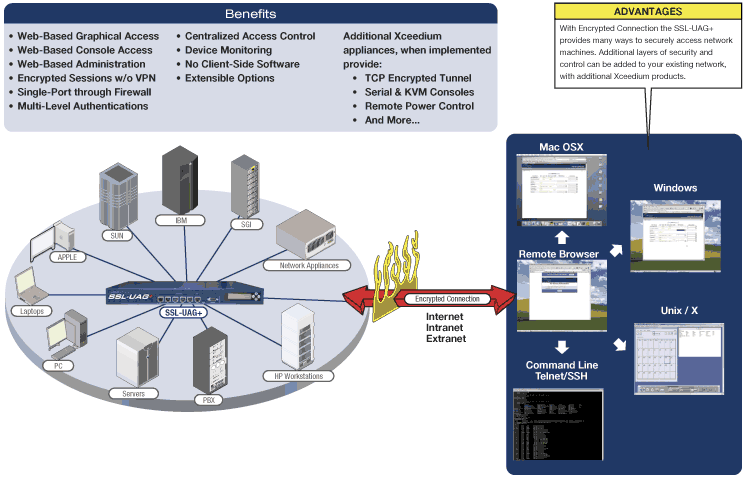 SOFTWARE UPGRADE FOR SYSTEM
Description:
Xceedium's SSL-UAG+ (Universal Access Gateway) gives users the unprecedented ability to take full control of desktops, servers, and network devices remotely from anywhere via a SSL VPN+ Technology. Convenience without the hassles of client software and security without the high costs of a VPN. Finally, companies are empowered with the tool to cut IT operational costs by up to 90%.

Accessibility
Through the SSL-UAG+, users can access intranet applications and virtually all graphical displays (such as Windows, Mac, and X-Windows) along with complete keyboard and mouse controls, and text-based sessions (Telnet and Secure Shell), are remotely accessible using any java-enabled browser. In conjunction with add-on modules, extensive administrative tasks can be achieved: such as out-of-band access to Unix / Windows hosts and networking equipment, and remote power on/off of any device. Remote users work as if they are in front of the systems.

Security
( SSL VPN+) Remote browser connections to the SSL-UAG+ are SSL (128bit) encrypted to ensure full secure transmission of both graphical and clear-text data. All concurrent remote browser sessions to the SSL-UAG+, located behind a corporate firewall, are tunneled through a single port on the firewall gateway. A single firewall rule is sufficient to provision for all remote access methods.

Manageability
A Centralized Access Control Database manages all user and device profiles, access policies, access logs, and monitored device statuses. All administrative functions are configurable through a simple web interface. SSL-UAG+ also has built-in system and device monitoring features for ICMP, HTTP, FTP, DNS, SMTP, NTP, and many others, as well as user-definable ports.

Reliability
The SSL-UAG+ utilizes an embedded solid-state storage component in place of a conventional hard disk to maximize reliability. There are no moving parts.

Business Users
Now have the ability to access their desktops and applications remotely from anywhere in the world. Whether traveling users are launching a browser on a hotel business center computer, a cyber-cafe terminal, or a notebook that is wirelessly connected, their desktops and applications are always available for remote access through the SSL-UAG+.

IT Managers
Facilitate remote access capabilities for technical and business users alike with the quick and cost-effective deployment of the SSL-UAG+ Finally, IT managers have a solution that differs from others on the market. SSL-UAG+ does not require high costs for implementation, long deployment time-frame, and on-going support. Companies no longer need an expensive VPN solution to enable secure remote access, nor a large IT team to manage client-side software distributions and support. As a result, IT Managers can easily extend local support coverage to include remote sites and can immediately reduce IT operational costs.

Security Officers
Effortlessly manage all in-band and out-of-band sessions, from anywhere, to any internal systems and networks. In conjunction with multi-level authentication and permission-based user profiling, the SSL-UAG+ has been engineered to use only one in-bound port for all web browser communications. Additionally, access control can be managed down to the "access-type" level (ie : graphical, command-line, serial console login, or even power switching) for each session. Consequently, remote access security is comprehensive.

Technical Engineers
Now attend to IT problems promptly, even if they are nowhere near the source of the problem. Whether a company utilizes co-location services at an ISP site thousands of miles away, has many remote operations scattered around the world, has a network that extends externally for B2B collaborations, or any other conditions in which IT problems are remote from the engineers, with the SSL-UAG+ they are just a few key strokes away from virtual support.

Benefits

Cost Savings
SSL-UAG+ helps companies cut IT costs by eliminating the need to deploy multiple remote access solutions for different user requirements. The SSL-UAG+ allows any java-enabled browser, running on any platform, to access Windows, Mac, and Unix in both graphical and text-based methods. Additionally, SSL-UAG+ reduces IT operational costs by allowing a single local IT team to effectively support all remote sites, where the SSL-UAG+ is installed.

Quick Deployment
SSL-UAG+ is an integrated hardware and software appliance product. This allows for the optimization and pre-configuration of all technology components to maximize performance. The LCD panel allows an administrator to install the device on the network within minutes.

Ease of Use
SSL-UAG+ has an intuitive web-based user interface for easy administration and end-user access.

Flexibility
SSL-UAG+ features can be quickly extended with add-on modules. This strategy allows companies to customize a cost-effective solution that is suitable for their immediate needs. Extensibility assures longevity of the IT investments.

Scalability
SSL-UAG+ is engineered to meet the high demands of large and complex IT operations. In conjunction with add-on modules, the six network interfaces on the product offer customizable implementations that can scale to suit both small businesses and the large enterprises.

Web-based Portal
SSL-UAG+ web-enables all in-band and out-of-band remote access methods so mobile users can easily access IT resources from anywhere. This eliminates the need to distribute, install, and support client-side software.

Web-based Framework
SSL-UAG+ can be customized to serve other web-enabled applications to remote browsers. Leveraging its existing architecture, secure tunneling scheme, and activity logging features, all applications can be delivered to remote users securely and tracked (Xceedium Professional Services required.)

Device Monitoring
SSL-UAG+ has a built-in monitoring function that can be activated to proactively check connectivity and service availability of systems and devices for all remote IT facilities. This feature is most suitable for small businesses and managing outsourced IT at the distant co-location sites.

Features:

Use a Standard Browser
Fully access virtually all types of graphical and text-based sessions with full keyboard and mouse control:
Windows, Mac, X-Windows, Telnet and Secure Shell
Supported System Platforms
Intel, Mac, Sun, HP and AIX
Supported Network Devices
Routers, Switches, Terminal Servers, PBX, and other Serial-Console Enabled Products
Cross Platform Access
Multiple Users Access
The same Windows or Mac systems for collaboration.
Multiple Independent X-Windows Sessions supported in Unix
Encrypted Sessions Without a Virtual Private Network
Single Access Port Through Corporate Firewall Gateway
Multi-Level Authentication
Quickly Convert Existing Serial Console Servers to Secure Web-Based Accessible Out-of-Band Devices
Simple Web Interfaces for Users and Administrators
Built-in Monitoring and Alerting
Features
Includes 50 Targeted Node License
Unlimited Remote Users
Advantages
Through the SSL-UAG+ and add-on modules, companies can centrally manage all in-band, out-of-band and remote power control activities completely via browsers from anywhere, at anytime, on any platform.
Companies can now achieve a permission-based access policy in which connections to all critical IT components within the infrastructure can be inspected and managed.
All session requests are authenticated and, through user profiling, appropriate access privilege is granted.
Individual sessions can be controlled, based on users' profile, down to the specific access method such as graphical, Telnet, Secure Shell, console and power on/off switching.
All activities are logged and active sessions can be terminated by the "super" administrator of the SSL-UAG+.
In conjunction with the device monitoring statistics gathered from all managed devices, companies have a wealth of information and a high degree of control over all users' remote access.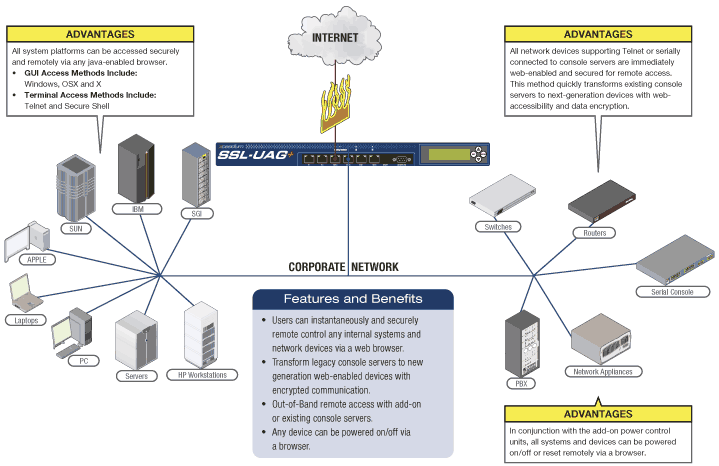 SOFTWARE UPGRADE FOR SYSTEM
Specification:
SYSTEM COMPONENTS
Chassis : 1U IPC Chassis
Power Supply : 200W Power Supply Unit
System Board : Intel 845GV chipset with 533MHz FSB
CPU (Model Specific) : Intel Celeron, Pentium 4
Memory(Model Specific) : Up to 2GB DDR 200/266 in 2 Memory Slots
Disk (Model Specific) : 128MB Disk-on-Module (Solid State)
Display : 2x16 Char LCD Screen

STANDARD INTERFACES
Network : 6 32bit/33MHz Gigabit/Fast Ethernet ports
Faceplate Inputs : Four Buttons
Serial Ports: One DB-9 Serial Port (For System Console)

PHYSICAL DIMENSIONS
Height: 1.73" (4.4 cm)
Width: 16.87" (42.86 cm)
Depth: 14.17" (36 cm)
Unit Weight: 11.45 lbs. (5.2 kg)
Shipping Weight: 21.59 lbs. (9.8 kg)
Enclosure: Fits Standard 19" Rack

ENVIRONMENTAL PARAMETERS
Operating Environment : 5°C - 40°C, 20-90% Humidity
Storage Environment : 0°C - 70°C, 5-95% Humidity
Internal Ventilation : 4 x 4cm 7.3 CFM ball-bearing fan

SUPPORTED OS'S

Microsoft Windows 9x, ME, NT, 2K, XP, 2003 Server
Apple Mac OS 9.x and OSX
Sun Solaris 2.8, 9
All Variants of Linux 2.2 and Above
SUPPORTED TEXT SESSIONS
Telnet
Secure Shell (SSH) V1, V2
SUPPORTED GRAPHICAL SESSIONS
Windows
Mac
X-Windows
SERVER-SIDE REQUIREMENTS
(Graphical Access only)
Agent software for the following platforms:
Microsoft Windows 9x, ME, NT, 2K, XP, 2003 Server
Apple Mac OS 9.x and OSX
Sun Solaris 2.8, 9
All Variants of Linux 2.2 and Above
CLIENT-SIDE REQUIREMENTS
Java-Enabled Browser (JVM)
BROWSER REQUIREMENTS
Netscape 6.x+
Internet Explorer 5.x+
AOL 6.x+
Opera 7.x+
Safari 1.1+