Partner Manufacturers - Product Information
DPXR20A-16 20 Port 2U 19" Horizontal PDU. 16 Amp. Outlet-level Remote Power Management and Control Over IP (Serial and IP Control PDU) DPCR20A-16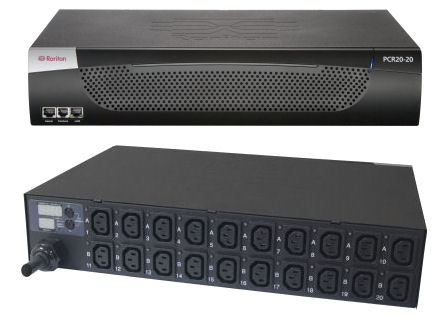 Raritan 2U Horizontal 20W PDU
Description:
DPXR20A-16 20 Port 2U 19" Horizontal PDU. 16 Amp. Outlet-level Remote Power Management and Control Over IP (Serial and IP Control PDU)

2U standard rack mount power distribution unit with 20 outlets, 230 Volts AC, 16 Amps, IEC60309 16A plug type, IEC320 C13 receptacle type

- kWh data when used with Raritan Power IQ Software see compatible parts

The Dominion PX is an intelligent Power Distribution Unit (PDU) that allows users to reboot remote servers and network devices and monitor power.
It can be used as a standalone power distribution unit, or integrated with Raritan's KVM switches and Secure Console Servers.

A flexible, next-generation power management solution
Raritan's Dominion PX remote power management devices allow IT administrators to securely reboot and power on/off servers and network devices from a remote location.
In addition, users can monitor power usage down to the outlet level, enabling highly accurate power metering.
Whether used as a standalone unit or integrated with Raritan access solutions, the Dominion PX also offers flexible and secure access with 256-bit AES encryption, flexible management interface support for HTTP, HTTPS, IPMI, SMASH CLI, SSH and SNMP, as well as user-configurable power sequencing. Environmental monitoring options are available.

The Dominion PX enables remote power cycling of network servers and devices. However, the Dominion PX also offers additional incremental value such as outlet-level power monitoring, access via Ethernet/IP and serial, AES encryption for remote access, an intuitive browser-based GUI, and other flexible access methods
Features:
Intelligent remote power monitoring and control
- Outlet-level RMS metering
- Intuitive Browser-based Management
- Large LED display provides per-outlet metering
- User configurable power sequencing
- User-defined thresholds at unit and outlet levels
- Remotely power on/off and reboot devices
- Outlet grouping and IP clustering*
- Sensors for temperature monitoring available*
- Receptacle status retained during power loss,
restoring power only to receptacles that were on
before the outage

Communications and security
- Standard unit comes with both serial (RS232)
and 10/100BaseT Ethernet
- Industry-leading 256-bit AES encryption
- Supports DHCP, static IP, and BOOTP
- HTTP/HTTPS
- IPMI 2.0 and SMASH CLI
- SSH and Telnet
- SNMP alerts, SNMP control*, SNMP MIB
- Alerts via e-mail SMTP, SMS - via external
SMS gateway and SNMP traps
- Simultaneous IP and serial access
- Self contained authentication
- Per outlet authorization
- LDAP/S, Active Directory®, RADIUS,
and CommandCenter® Secure Gateway
- Easy firmware upgrades via IP

Integrated power management with Raritan Access and Management Solutions
- Integrated authorization and control with Paragon II, Dominion SX, Dominion KSX, Dominion KX
and CommandCenter® Secure Gateway
- Can also be used as a standalone power management solution

- kWh data when used with Raritan Power IQ Software see compatible parts






Specification:
DPXR20A-16

Input

Nominal voltage: 230V AC, single phase
Maximum line current per phase: 16A
Rated current: 16A
Load capacity: 3.7VA
Frequency: 50-60 Hz
Plug type: IEC 60309 6H-P

Output

Nominal voltage: 230V AC
Maximum current draw: 16A
Switched receptacles: 20 x IEC C-13

Metering

Inlet: Voltage, current, power
Outlet: Voltage, current, power

Rack Environment Management

Optional temperature and humidity sensors (RJ-12 connector)

Interface and Protocol Support

RS-232 (RJ-45 connector)
10-100 Mbps Ethernet (RJ-45 connector)
Authentication: Active Directory®, LDAP, RADIUS
Security: SSH, HTTPS, ACL, strong passwords, certificates, 256-bit AES encryption
SMASH CLP, IPMI
SNMP TRAPs, SETs, GETs, V2/V3
Web browser access

Mechanical

Rack space: 2U
Mounting: Rack mount brackets included
Dimensions (WxDxH): " x " x "; x x mm
Weight: lbs; kg
Display/control panel: LED for current and voltage by outlet and total PDU
Line cord: 10 ft / 3 m
LED power ON/OFF indicators at each outlet
Color: Black powder coat
Shipping dimensions (WxDxH):
Shipping weight:

Environmental requirements

Operating temperature: 5-45 degrees Celsius
Humidity: 5-90% RH non-condensing
Altitude: 10,000 feet

Approvals

FCC Part 15, A; cTUVus which is fully compliant with UL 60950-1 Rev. 3; EN 55022, Class A; EN 55024; EN 60950-1; CE mark; C-Tick and PSE
RoHS/WEEE compliant

Warranty

Two years, 100% parts and workmanship


For access using a web-browser, the Dominion PX does not require any software to be loaded on the client; however the browser does have to be Java enabled. When using SSH/Telnet, the customer has to provide an SSH/Telnet client. In some operating systems, like Linux, an SSH client is included in the distribution. Also, OpenSSH.org has an SSH client that can be downloaded free of charge. Putty is one of the most popular SSH clients for Windows, and it can also be downloaded free from the Internet.


If connecting with the Dominion or Paragon range of KVM Switches a Power CIM adaptor ( Not included with product ) is required at additional cost. See part No. P2CIM-PWR.

These items work independently and have an IP RJ45 port and additional Serial interface port only. If using the serial connection additional cabling and adaptors may be required depending on your other devices.