Partner Manufacturers - Product Information
RTL-5501665 Rittal Component shelf, HALF U, depth-adjustable 600-900 MM shelf (19") / Suitable for Servers. 50 Kg Black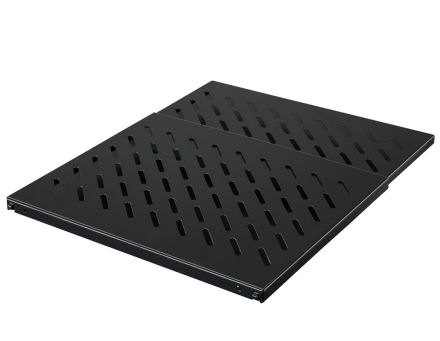 Rittal Component Adjustable shelf ( Expandable ) 1/2U thin 0.5 U
Description:
Rittal adjustable multipurpose Medium to deep 900mm depth fitting
shelf for mounting between the front and rear (19") 482.6mm mounting angles.

Infinitely depth-adjustable from 600 to 900 mm.

NOTE: 1/2 U Size 50 Kg rated




Colour Black


PLEASE NOTE:
THESE RITTAL PRODUCTS DO NOT QUALIFY FOR FREE DELIVERY AND WE HAVE A SET DELIVERY CHARGE PER ORDER OF £ 12.95 FROM RITTAL FOR THESE ADDITIONAL RACK PARTS IF ORDERED WITHOUT A CABINET.
Features:
Half U (19") Wide 482.6mm .
Depth-adjustable from 600 to 900 mm.
Supplied with Shelf & Assembly screws
50 KG Rated, surface load static.
Suitable for Servers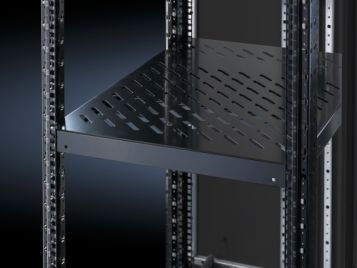 1 U pictured fitted in rack, but the 0.5 U version is similar just thinner at 0.5 U
Specification:
0.5 U High, 19 " 482.6mm Wide
Depth-adjustable from 600 to 900 mm.
Sheet Steel
Colour : black
50 KG Surface load rated



Model No.: RTL-5501655
Designation: Component shelf 1/2 U, depth-adjustable for 482.6 mm (19 inch) mounting level
Variant: n/a
Packs of: 1 ST
WHD: n/a
Mounting surface: n/a
Volume: 7,75 dm≥
Net weight/ST: 5,15 kg
EAN: 4028177401860
Customs number: 72166110
Protection categories: n/a
eClass 4.0 27-18-81-xx
eClass 4.1 27-18-81-01
eClass 5.0 27-18-92-18
ETIM 2.0 EC000315
ETIM 3.0 EC000315