Partner Manufacturers - Product Information
KH1508A - Aten/Altusen - 8 Port CAT-5 High Density KVM Switch, 1U 19" Rack Mount supplied, Daisy chain capable (KH Range)


KH1508A Front & Rear
Description:
The KH1508A KVM Switches are control units that allow access to multiple computers from a single KVM (keyboard, monitor, and mouse) console. The KH1508A features RJ-45 connectors and Cat 5 cable to link to the computers. Combined with Auto Signal Compensation (ASC) signals can travel up to 40 meters and still maintain high video resolution. Utilizing PS/2 and USB KVM Adapter Cables for the final linkup, the KH1508A permits any combination of PCs, Macs, Sun computers, and serial devices to coexist on the installation.

Features:
• One KVM console control up to 8 directly connected computers

• Space-Saving RJ-45 connectors and Cat 5e/6 cabling

• By daisy chaining up to 31 additional KH1508A switches, as many as 256 computers can be controlled from the original KVM console

• Console conversion – any type of KVM console can control any type of computer; mixed combinations (PS/2&USB) supported on both the KVM console and computer sides

• Superior Video Quality- Supports the video resolutions up to 1920 x 1200 @60Hz for up to 30 meters, 1600 x 1200 @60Hz for up to 40 meters, and 1280 x 1024 @75Hz for up to 50 meters*

• Configue port access rights for users on a port - by - port basis

• Three port selection methods: Manual (via front panel pushbuttons), Hotkey, and multi-language OSD (On Screen Display)

• Multiplatform support – PC, Mac, Sun, and serial

• Multiple User Accounts - Supports up to 10 user and 1 administrator accounts

• Two-Level Password Security - Supports one administrator and ten user profiles. Password protection prevents unauthorized accessing to the installation

• Auto Scan mode enables continuous monitoring of user-selected computers

• Broadcast Mode sends commands from the console to all computers – allowing you to perform operations (such as software installation, upgrades, shutdowns, etc.), on them simultaneously

• Adapter ID

• Firmware Upgradeable

*With KVM Adapter Cable KA7000 series.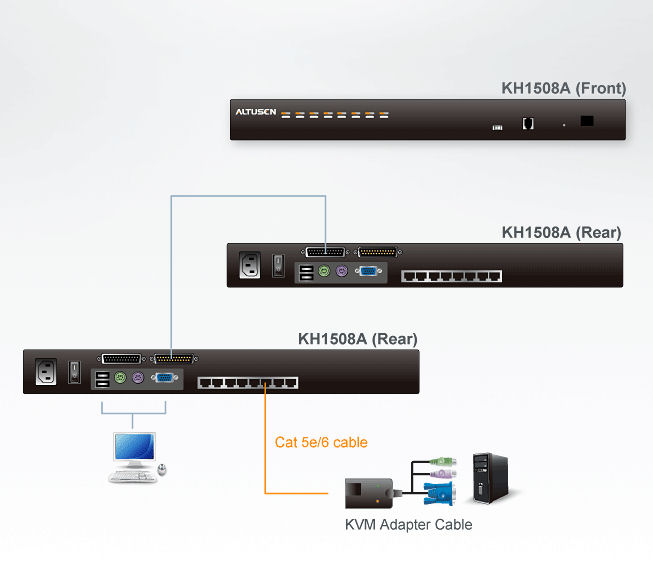 SETUP
Specification:
Computer Connections

Direct 8
Maximum 256 (via Daisy Chain)
Port Selection OSD;Hotkeys;Pushbutton

Connectors

Console Ports Keyboard 1 x 6-pin Mini-DIN Female (Purple)
Video 1 x HDB-15 Female (Blue)
Mouse 1 x 6-pin Mini-DIN Female (Green)
USB User 2 x USB (A) White

KVM Ports 8 x RJ-45 Female
Daisy Chain
Ports In 1 x DB-25 Female (Black)
Out 1 x DB-25 Male (Black)
F/W Upgrade 1 x RJ-11 Female (Black)
Power 1 x 3 Prong AC Socket

Switches

Port Selection 8 x Pushbutton
Reset 1 x Semi-recessed pushbutton
F/W Upgrade 1 x Slide
Power 1 x Rocker

LEDs

On Line 8 (Green)
Selected 8 (Orange)
Power 1 (Blue)
Station ID 2 x 7 Segments (Orange)
Emulation Keyboard/Mouse PS/2; USB(PC, Mac, Sun); Serial

Video

1600 x 1200@60Hz(30m); 1280x1024@60Hz(40m)
Scan Interval 1~255 Seconds
I/P Rating 100~240 VAC; 50/60Hz; 1A
Power Consumption 25W

Environment

Operating Temperature 0~50°C
Storage Temperature -20~60°C
Humidity 0~80% RH, NC

Physical Properties

Housing Metal
Weight 2.75 kg
Dimensions ( L x W x H ) 43.70 x 16.10 x 4.40cm(19"/1U)

Package Contents:

1x KH1508A Cat 5 High-Density KVM Switch
1x Firmware Upgrade Cable
1x Power Cord
1x Rack Mount Kit
1x Foot Pad Set(4 pcs.)
1x User Manual
1x Quick Start Guide
1x Registration Card

* The specification and pictures are subject to change without notice.
* All trademarks and logos are the properties of their respective holders


Click here for further information