Partner Manufacturers - Product Information
SB-PWIQ50-VA Sunbird Power IQ Software & Licence for 50Devices with 1 year software support. Virtual Appliance ( Energy Management )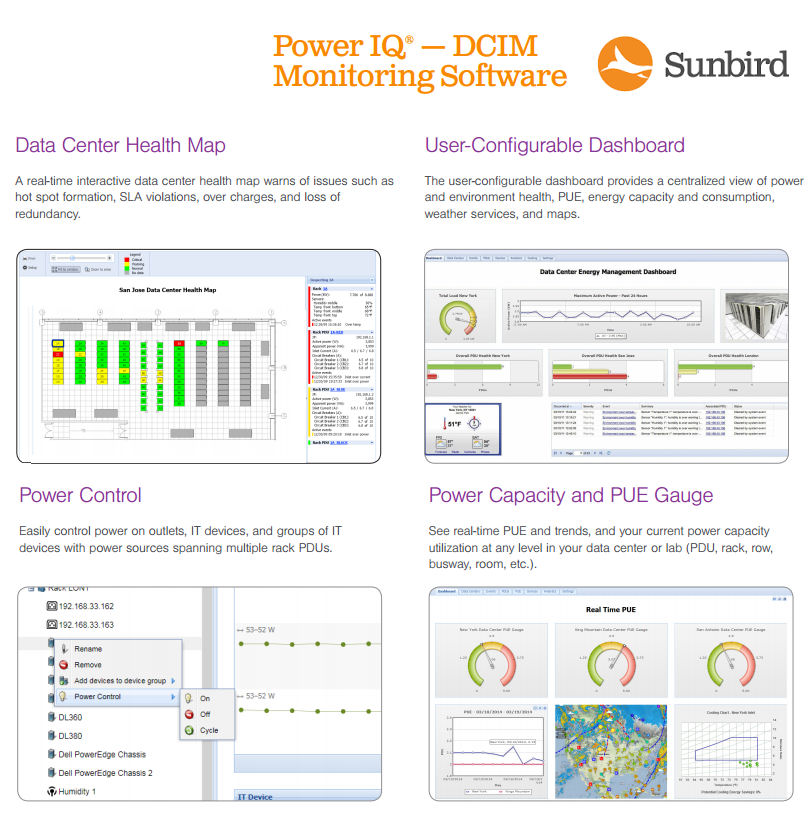 Sunbird Power IQ 4 screen images: Datacenter Health, User Configuration Dashboard, Power Control, Power Capacity and PUE Gauge
Description:
Power IQ® Energy Management Software enables data center managers, IT administrators and facility managers to be more energy efficient and fully utilize existing data center power infrastructure. Powerful cooling charts, graceful OS shutdown and bill-back reports provide the tools to understand real-time power load, rate of change, and forecast trends at all levels of infrastructure.

The configurable dashboard provides a vendor agnostic centralized view of power and environmental health, energy capacity and consumption, weather services and maps. The smart rack concept provides one-click access to rack power, cooling, airflow, events and much more.

Sunbird applications are standards-based, they seamlessly integrate with existing infrastructures, and work with Sunbird's dcTrack to provide a full featured Data Center Infrastructure Management (DCIM) solution.

Through one Web browser, the scalable Power IQ manages APC®, Avocent®, Baytech®, Cyber Switching®, Eaton, Geist, HP, Knurr®, Liebert®, MRV, Raritan®, Rittal®, Server Technology® , Tripp Lite and UNITE™ rack PDUs, UPSs, facility objects including sensors, meters, CRACs and more. Data Center Operators can add support for additional manufacturers on their own with the new user configurable data collection module by entering the MIB OID for the data they want to collect.

As the energy management component of Sunbird's DCIM solution, Power IQ helps data centers become more energy efficient by finding stranded power capacity through:

A user configurable dashboard
Agentless graceful shutdown of Windows®, Linux® and Unix® device groups
Psychrometric chart to calculate possible energy savings from simply increasing temperature
Energy cost bill-back reports to drive behavior
Decommission flags to forecast energy savings when eliminating servers
Baseline consumption and changes of various energy saving initiatives
Capture peak loads under compute stress to identify excess power capacity in the rack
Power capacity forecast charts
Power capacity utilization gauges, including Power Usage Effectiveness (PUE), measurement and reporting.
Smart Rack View with Quick Charts

Security is ensured through standards-based authentication, web-session timeout and IP-based access control. The system is open database compliant (ODBC) and includes a web service API for easy integration with enterprise management systems and scripts.

Features:
Group Data Via IT Device, Customer / Department, Rack, Row, Zone and Building


Turns a large amount of detailed data into useful information to enhance capacity planning and energy efficiency initiatives.

Collect Power Data from All APC Metered PDUs, Switched PDUs and In-line Meters Including Line Current Draw and Available Current, Unit Active Power and Apparent Power


Use one system for information aggregation.

Collect PX Power Data: Outlet Current and Active Power; Line Current Draw and Available Current; Unit Active Power and Apparent Power


Use one system for information aggregation.
Collect Environmental Data from PX Temperature and Humidity Probes Find hot spots in your data center.
User Configurable Polling The data polling can be configured from 15 seconds to 24 hours.
User Configurable Data Retention System admin can control data retention period.

Reports:

Consumption Reports for Energy, Cost and CO2


Easily generate consumption reports for customers or internal departments.

CO2 Certificate Report


Certify usage change from one period to another to support carbon credit claims.
Exception Reports Find stranded power capacity.
Trending Reports Provides an at-a-glance view of the power trends of IT devices, racks and branch circuits to avoid project delays and downtime due to lack of power supply or circuit overloads.

Open Data Model:

Open Database Connectivity


Provides you with the flexibility to use your own reporting system, such as Crystal reports or SQL, to store and analyze data. This can save training time and lets you create the exact custom reports you require.

Import and Export Data Via CSV File


Leverage data and information between systems and organizations.

Rack PDU Management

Central Management Console Access


Consolidates names, polling status, location, model and firmware onto one screen and saves valuable management time.

Bulk PX System Configuration


Saves time and improves accuracy configuring outlet names and common parameters for 1 to 1,000 PX devices. Also allows you to save outlet names in an Excel™ file for future reference and updates.

PX Firmware Management


Power IQ reduces the time it takes to administer PX firmware updates, because it helps track and distribute those updates.

Security:

LDAP/AD Integration


Easily centralizes corporate authentication policies.

Trusted Host Definition


Our 100% web-enabled system provides administrators with the option to restrict access to named hosts if such a level of security is desired.

AES Encryption up to 256 Bits


Protects your data with the industry's most secure encryption standard.

Versatility:

VMware® Virtual Appliance


Runs on your VMware ESX or free VMware ESX3i to save time, space and energy.

Optional Appliance for
Non-VMware Enterprises


For organizations who don't have VMware and don't want to download the free VMware ESX3i.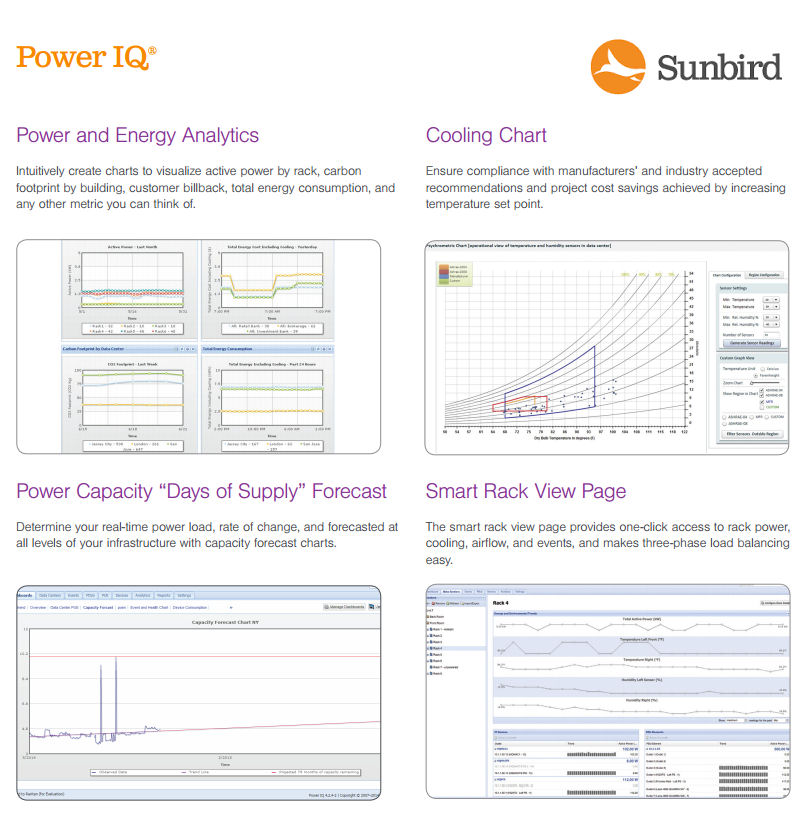 Sunbird Power IQ 4 screen images: Power and Energy Analytics, Cooling Chart, Power Capacity "days of supply " Forecast and Smart Rack View Page
Specification:
Virtual Appliance:

Note: assumes 2Ghz per Core and 30 minute polling interval

VMware Virtual Appliance - ESX or ESX3i

CPU -Single Core to Quad Core Dependant on requirement

RAM - 2GB-4GB Dependant on requirement

Disk -80GB

Media -DVD

Host OS - Any

~~~~~~~~~~~~~~~~~

Hardware Appliance:

Form Factor -2U

Dimensions-
27.05" (W) x 18.70" (D) x 3.46" (H);
687mm (W) x 475mm (D) x 88mm (H)

Weight - 44.1 lbs; 20kg

Power -Dual Supply (2 x 500 watt)

Operating Temp - 10-40 C; 50-104 F

MTBF - 53,564 hours

KVM Admin Port:
DB15 + PS2 or USB Keyboard/Mouse

Serial Admin Port -DB10

Console Port -3 x USB 2.0 ports

~~~~~~~~~~~~~~~~~

Hardware:

Processor -2 x AMD Opteron 250

Memory -2 x 2 GB

Ethernet Interfaces -(2) 10/100/1000 Ethernet (RJ45)

Hard Disk & Controller -(2) 74GB SATA drives @ 10000 RPM, RAID 1

CD/ROM Drive

DVD-ROM

Warranty -2 years

Click here for further information