Partner Manufacturers - Product Information
KVMC-HDMI-MM-05 5Mtr HDMI-HDMI Cable Male to Male. Ultra HD 4K and 3D compatible. 4K HDMI-HDMI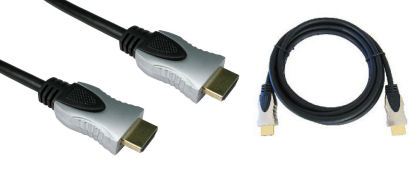 HDMI MM cable
Description:
HDMI Plug - HDMI Plug High resolution Video cable.

This is a Black Ultra HD 4K which complies to new HDMI standards. HDMI 2.0 cables are capable of carrying the increased bandwidth at up to 18Gbps.

HDMI (High-Definition Multimedia Interface) is a specification that combines video and audio into a single digital interface for use with DVD players, digital television (DTV) players, set-top boxes, and other audiovisual devices.
HDMI supports standard, enhanced, or high-definition video plus standard to multi-channel surround-sound audio.

Made in High quality form gold plated HDMI male to male cable that connects a HD device such as a Blu-Ray player to a HD display screen.
Features:
- HDMI Plug-HDMI Plug High resolution Video cable
- HDMI Ethernet Channel
- Audio Return Channel
- 4K Support

HDMI 2.0 is a new standard of HDMI that means cables now feature the following

• 4K@50/60, (2160p), which is 4 times the clarity of 1080p/60 video resolution
• Up to 32 audio channels for a multi-dimensional immersive audio experience
• Up to 1536kHz audio sample frequency for the highest audio fidelity
• Simultaneous delivery of dual video streams to multiple users on the same screen
• Simultaneous delivery of multi-stream audio to multiple users (up to 4)
• Support for the wide angle theatrical 21:9 video aspect ratio
• Dynamic synchronization of video and audio streams
• CEC extensions provides expanded command and control of consumer electronics devices through a single control point

This is backwards compatible to all other HDMI specifications.

Specification:
- HDMI Male - Male
- 19 Pin Male Connectors
- Gold Plated Contacts
- Black PVC Sheath
- Full HD 1080P
- Supports 4K @ 50/60, (2160p) so, 4K over HDMI
- 3D over HDMI
- 30 Awg Cable
- Available in lengths of up to 20m
- Thicker Cable (lower AWG) used for longer assemblies to ensure the best and smoothest transmission of Digital Data and offer less signal path resistance