Partner Manufacturers - Product Information
PEX-C19-C14-01 1Mtr 16 Amp (F) - 10 Amp (M) IEC 320 extension (C19-C14) Rated to use 10 Amps only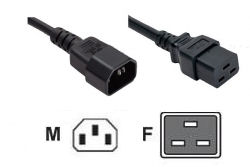 PEX-C19-C14-XX
Description:
16 Amp IEC 320 C19 Socket - C14 Plug. Adaptor Power extension cable.

Supplies a C19 Output socket from a C13 Source 10AMP RATED. May also be suitable for other devices.

Please note as this item is not fused the total current should not be taken above 10AMP which is the max rating of the IEC C13 and C14 Connectors.
The hardware source may have limits or breakers but care should be taken not to overload.
Features:
- 16Amp C19 Socket - C14 Plug Power connection and extension cable.
- Allows a device or PDU with C20 Plug to be connected into a IEC C13 Socket typical on small / medium UPS.
- High quality moulded form

Specification:
16Amp Rated Cable C19 Socket - C14 Plug IEC 320 ( 10 Amp at 240 volts )

Maximum rating 10A
Standard 1.5 mm 3 core flex cable 10A rating

Length 1 Mtr
Colour Black