Partner Manufacturers - Product Information
AH-N1419E-EU CyberView N-Series 19 " KVM Drawer ( Next Generation Range ) Touch Pad Mouse / Short Depth model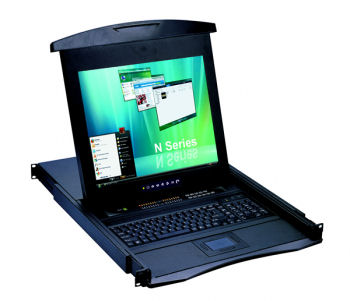 Description:
CyberView 1U Next Generation N Series with Touch Pad Mouse Version.

The N series 1U Next Generation LCD Key drawer is available with a 19" SAMSUNG Class A LCD panel, the rack mount drawer ships as standard with both PS/2 and USB (Combo) connectivity and with touchpad in most European keyboard language layouts.

The drawer is an enhanced version of the highly popular RKP series with improved aesthetics, a new front panel, single or one man installation rails and a new keyboard with standard numerical pad and the mouse module to the lower centre of the keyboard.


Features:
LCD Drawer and KVM Benefits
· High density Cat5 KVM with either 16 or 32 ports in 1U of rack space
· Cost efficient DB15 KVM integration
· Single or 'One Man' Installation slides for easy, quick installation
· 104 key notepad keyboard with full numerical pad
· Mix PS/2, USB and SUN with Multi- Platform switch capability
· Secure remote user access across the world wide web
Drawer Features and Options
· 1U rackmount drawer with either 17" or 19" SAMSUNG LCD
· Either PS/2 or USB input to the LCD drawer by cable selection
· Multiple keyboard language selections with either touchpad or trackball
· Slide rails with fixed positions to prevent drawer movement when typing
· Multi lingual on screen display menu
· 12, 24 and 48 volt DC power options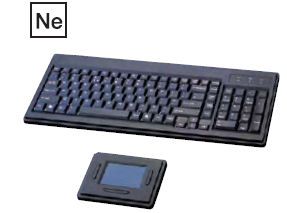 Specification:
-Grade A Industrial TFT LCD Panel
- 17 " 1280 x 1024 LCD with 300 nit brightness and 700:1 Contrast Ratio typical.
Brightness (cd/m²) 250
Color Support 16.7 M

LCD Panel MTBF (hrs) 50,000
VGA Signal Input Analog RGB, 0.7Vp-p
Sync. Type Separate H/V, Composite, SOG

Product Dims: N1417 & N1419 / 442 W X 480 D X 44 H
Packing Dims: N1417 & N1419 / 589 W X 856 D X 168H

Weight: N117 - 16 KG / GROSS 22KG

Plug & Play DDC EDID 1.3
Console Port (Combo) DB-15 connector for VGA / keyboard / mouse
(Combo interface)
Power Input Auto-sensing 100 to 240VAC, 50 / 60Hz
Power Consumption Max. 48 Watt, Standby 5 Watt
Compatibility Multi-platform - Mix PCs, SUNs, IBMs, HPs & DELLs.
Regulation Approval FCC, CE
Environmental.


Interface output ports - Combo ( PS2 & USB Ports)