Partner Manufacturers
USB2-GIGA-ETHRJ45 USB2-GIGABIT Ethernet Converter (USB A Plug - RJ45 Socket)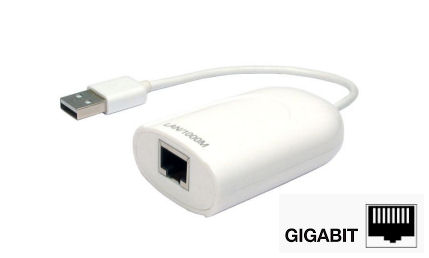 USB2- GIGA BIT Ethernet RJ45 Adaptor
Description:
The Gigabit USB 2.0 Ethernet adapter converts a USB port into a 10/100/1000 Base-T Ethernet port. It enables low cost and affordable Gigabit Ethernet network connection to any PC, laptop or embedded system by using your existing USB ports.
Features:
- USB2 - Ethernet Giga speed network adaptor.

- Allows any USB2 Computer to be connected to Ethernet networks with ease.

- A suitable fast solution alternative to inbuilt or fitted network cards.
Specification:
USB2-GIGA-ETHRJ45 USB2- GIGABIT Ethernet Converter (USB A Plug - RJ45 Socket)

Contents:
Gigabit USB 2.0 Ethernet Adapter x1
Driver CD x1
Quick Installation Guide x1


- Supports 10/100/1000 Mbps
- Supports PHY with HP Auto MDIX
- USB specification 1.0, 1.1 and - 2.0 compliant
- IEEE 802.3, 802.3u, and 802.3ab compatible
- Supports checksum offloads (IPv4, IPv6, TCP, UDP)
- Cable length : 16cm
- Supports Windows, MAC and Linux OS