Partner Manufacturers
CONV-USB2.0-VGA USB 2.0 USB 2.0 - VGA Adaptor ( For a Extra Video ports from a USB Port ) Ideal for laptop 2nd Video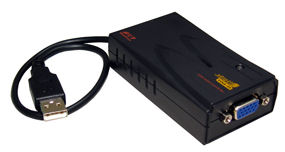 Picture may not reflect actual item and may vary in style CONV-USB2-VGA
Description:
USB 2.0 USB 2.0 - VGA Adaptor

Allows a 2nd or even more VGA Video outsputs from each USB Port.

This USB 2.0 VGA Adapter enables you to connect any VGA / SVGA monitor, LCD Screen or projector to your PC or notebook. It can be used to show the same screen, or to extend your computer desktop onto a secondary monitor, or another unit will allow a third monitor etc, etc, upto 6 units. All possibley showing different applications.
Features:
- Allows one PC to connect to two screens
-Can display two separate programmes from the one PC.
- Basically it can be used to show the same screen, or to extend your computer desktop onto a secondary monitor.
- Ideal for Laptops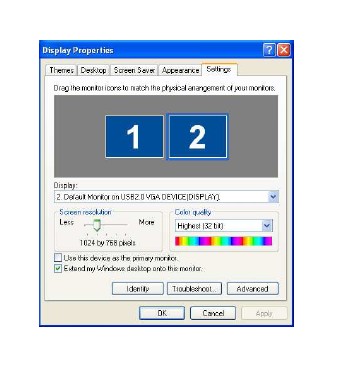 USB2-VGA Screen selection setting view in Windows
Specification:
System Requirements:-
• PC that is compatible with USB (USB 2.0 recommended)
• With Microsoft Windows 2000 or XP installed
• Spare VGA/SVGA Monitor

A maximum of 6 units can be used from a computer.

Supported Resolutions:-
640 x 480, 8, 16 or 32 Bit
800 x 600, 8, 16 or 32 Bit
1024 x 768, 8, 16 or 32 Bit
1152 x 864, 8, 16 or 32 Bit
1280 x 768, 8, 16 or 32 Bit
1280 x 1024, 8 or 16 Bit

Package Contents:-
• USB 2.0 VGA Adaptor
• Driver & Installation CD
• Quick Install Guide