Partner Manufacturers
ADDER Products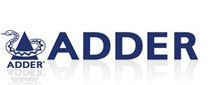 Please note from July 1st 2017 Adder Technology have issued new pricing for the channel with many price increases over the whole range. We apologise for any inconvenience caused but Adder have unfortunately surprised the channel without the expected industry confirmation and notice period. Any quotes pre - Friday June 30th 2017 will now need to be checked for validity.
ADDER KVM TECHNOLOGY RANGES - Trade - Adder Distributor
Mediatron are the UK's leading KVM Distributor, we carry the largest range of Adder products in the UK. Most stock available now for delivery next day, enabling us to offer the quickest delivery times. We also offer specialist expert advice, installation or setup assistance and can offer you the lowest level trade only pricing.
* Become an Authorised Adder Reseller - Benefits include: Training, product updates, deal registration ability and additional loyalty discount - our backup team can also assist you in solution planning and installation - Apply today - Call us now - 0845 899 8998
DVI Video & USB Control Products
Control Room and High Performance KVM Matrix Systems
Digital KVM system for Datacentre multiple server access

Control System Solutions

Comprising multiple units and a device management. We offer the assistance of system planning, full installation or system configuration.


Available for Single, Dual Triple and Quad Video

Transmitter and Reciever units

INFINITY 1 / Single Video over Cat5/6 UTP Cabling

INFINITY 2/ Dual Video + option of Cabling UTP or Fibre SFP

IP KVM access to DVI Video

Network Management units for control of multiple Infinity transmitters and Receivers

See the Adder Case Study BBC
Data Centre Use, Matrix KVM Switches and Systems
Adder Specialist KVM Switches
KM Trader Switch and Control only Switches




Adder Secure KVM Switches

EAL4+ Certified & Tempest Qualified

Adder AV Pro VGA - KVM Switch

Single Video, Dual, Triple, Quad

Adder AV Pro DVI - KVM Switch

DVI & USB KVM Switches
Adder KVM Extenders
AdderLink X100 and X200 Ranges

X100 Short Range VGA PS2-PC (PS2/USB)

X200 Emulated USB 300mtr VGA USB

X-USB PRO VGA Full USB 2.0 & X50

X-USBPRO 300 Mtr long range

X50 Range 50 Mtr

AdderLink XD Range

XD150 DVI High Res

XD522 HDMI Dual 4K High Res

AdderLink X-DVI- & DVIPRO

DVI and USB

AdderLink X2 SILVER

AdderLink X2 GOLD

AdderLink X-KVM

ALTX-ALRX
Video and Audio AV Extenders and Splitters
...end