Partner Manufacturers
NC14012-B866 Fujitsu FD-5200MT Range 17" TFT 1U Lift-up Console drawer With 16 Port Switch ( Light weight -Composite Moulded Body)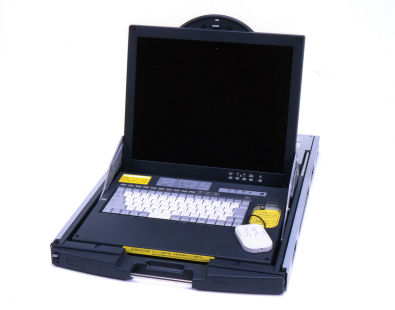 Fujitsu 5200 series KVM DRAWER
Description:
New Fujitsu SERVIS FD-5200 Series – Moulded console drawer with integral 16 Port KVM Switch. High resolution TFT LCD, Lift-up keyboard and corded optical mouse for simple local operation.

Fujitsu's latest addition to its Console Drawer range (FD-5200MT) further improves operability and visibility in the server room rack environment with a newly developed industry first Plastic mould Lift-up console drawer with a 17-inch TFT LCD.

FD-5200MT Series now 10% lighter inherits the operability and space saving compactness of the popular FD-5100 series (17" lift-up console drawer) for rack mounting operations.

A flat operation surface is provided by a lift-up mechanism, allowing the keyboard/mouse operation area to rise automatically in co-ordination when the monitor is raised.
Optical reflection mouse (slim card type) now with cord is incorporated as standard and delivers operability comparable to that of conventional optical mice.
Multi-platform support for Sun/IA PS/2 or USB allowing control of IA SUN Blade/Fire series Servers(Cable configuration only via the SERVIS Cable System) Built in On Screen Display (OSD) allows Server naming and selection (When used with the optional KVM products). Unit collapses to only 43mm high for 1U implementations, installation and configuration made easy with side rails and a short pull design with front opening screen for added protection from accidental damage.
Features:
· Flat modular construction for 19" rack mounting
· Lift-up Keyboard Mechanism· Keyboard rises to create a flat operation surface
· 17" LCD TFT / 1280 x 1024 Resolution
· Multi-Language Keyboard variations
· Collapses to 43mm high for 1U implementations
· OSD & Hot Key
· Integrated 8/16 Multi-Platform KVM Option.
· Plastic Mould Type
· 10% lighter than current lift-up version
· Multi-Platform PS/2, USB and Sun.
· Auto-scan
· Laptop style Keyboard · Multi-Processor (KVM Integrated Switch Version)
· Unique 3 button Optical Reflection Mouse (Slim Card Type) with cord and scroll feature.
· Separate/Composite sync support


Fujitsu 5200 Range Drawer setup
Specification:
Model No. FD5200MT

Plain KVM Drawer

Weight 12.5Kg

Display 17" TFT LCD Momitor S-XGA ( 1280X1024 )

Keyboard 83/84Key ( Various Languages available )
Keystroke : 3.0 Key Pitch : 19.05mm

Mouse: Optical Reflection Mouse ( Wired )

Server I/F Keyboard, Mouse PS2,PC, USB, SUN I/O, SUN USB
Display : Anologue RGB

Power supply: AC100V/0.9AC to AC240V/0.5AC

Dimensions:
At storage :445(w) x 678(d) x 43(h) mm
At Use: 445(w) x 1208(d) x 370(h) mm