Partner Manufacturers
FD-MCP-6FD6-020 2 Mtr Mode Conditioning Patchcord LC-SC 50/125 ( Fibre Optic Mode conditioning patch with Singlemode SC )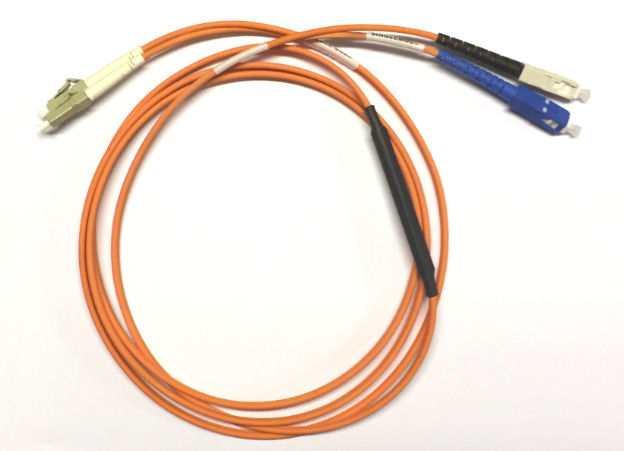 FD-MCP-6FD6-020 mode conditioning patch cable
Description:
2 Mtr Mode Conditioning Patchcord LC-SC 50/125 ( Singlemode SC )

Optical Mode Conditioning patch cable made to provide a convenient and reliable method of connecting multimode fiber plants with 1000Base- LX based transmission equipment compliant with IEEE 802.3 standards. Mode conditioning cables provide a method of offsetting a single-mode fiber core with a corresponding multimode fiber. This calibrated offset reduces a phenomena called differential mode dispersion, or DMD, which can cause the transmitting laser pulse to spread out and merge into neighboring pulses creating bit errors in the transmission signal.

Other versions available upon request made to the length of your choice and chosen connector types.

The need for this patch cord is due to the single-mode launch nature of the -LX (1300nm) transceiver modules used for Gigabit Ethernet. These modules have to operate for both single-mode and multi-mode fibers. Launching a single-mode laser into the center of a multi-mode fiber can cause multiple signals to be generated that confuse the receiver at the other end of the fiber. These multiple signals, caused by Differential Mode Delay (DMD) effects, severely limit the cable distance lengths for operating Gigabit Ethernet. A mode conditioning patch cord eliminates these multiple signals by allowing the single-mode launch to be offset away from the center of a multi-mode fiber. This offset point creates a launch that is similar to typical multi-mode LED launches.
Features:
2 Mtr Mode Conditioning Patchcord LC-SC 50/125 ( Singlemode SC

Close up - conditioning patch cable FD-MCP-6FD6-020
Specification:
FD-MCP-6FD6-020

2 Mtr Mode Conditioning Patchcord LC-SC 50/125 ( Singlemode SC )

Colour - Orange
50/125 Cable OM2
Heavy duty Duplex LSOH Cable