Partner Manufacturers
F-MTP12-B-OM4-XX-020 2 Mtr MPO-MPO 12Fb Polarity B TrunkCable OM4 (Colour Aqua ) LS0H (MTP)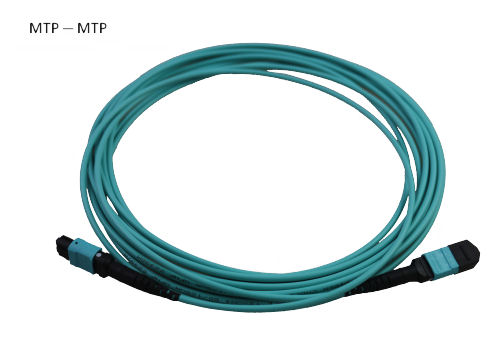 (MTP- MTP ) MPO-MPO Trunk Cable
Description:
QSFP+ to QSFP+ direct attach MTP fibre patch cords

MPO/MTP Trunk Cable used for rapid deployment of high density backbone cabling in data centres or other high fibre density environments reducing network installation or reconfiguration time and cost. They are used to interconnect cassettes, Switch to Switch, panels or rugged MPO, Fan Outs, spanning MDA, HDA and EDA zones.


These MPO - MPO Cables are made with the higher grade MPT Connectors used for rapid backbone connections between equipment racks.


Features:
Direct QSFP+ to QSFP+ connection
Patching to 40G MTP trunk cables
Especially suited for data centres.

Compact, rugged design cable, reduces space requirements
Shipped as standard without connector pins (female) and A polarity. Pinned (male) and B or C
polarity also available
Fibre types OM3, OM4, OS2
MTP USConec MTP connectors for superior performance
12, 24 and 48 fibre versions available
100% factory tested
Suitable for use in Data Centre, 40G and 100G parallel optics applications and high density
fibre installations.
Low-loss versions available

- OM4 Fibre Grade
- 12x Fibre Ferrule MPO/MTP
- LSZH, OFNP, OFNR Cable Jacket Options
- Female (standard) and Male MPO/MTP Connectors
- Polarity A (standard), B or C
- Factory Terminated and Tested
- MPO/MTP Interface - MPO/MTP components feature superior optical and mechanical properties
- Optimised Performance - Low loss MPO/MTP Elite and OM4 fibre assures low insertion and power loss in tight power in high speed network environments.
- High Density - Multifibre connector and compact dimension of ruggedised MicroCable using less space in data centre environments
- Rapid installation- Factory terminated modular system saves installation and configuration time.
- High quality reliable - 100% tested - Combination of high quality components and manufacturing quality control guarantees products to the highest quality standard


MTP MPO 12F Trunk Cable line drawing
Specification:
Transceiver Ports Transceivers from the leading switch manufacturers such as CISCO, Juniper, Extreme, HP, Dell, Arista and Brocade all use an MT ferrule which is the same ferrule used in the MTP connector (a specific 12 fibre MPO connector) . To get the best performance from a QSFP+ transceiver use of an MTP patch cord/jumper cable with MTP low loss connectors is highly recommended.