Partner Manufacturers
U202-LSOH-01 1Mtr USB2 A-B LSOH Attachment Cable Port ( USB A Plug - B Plug ) LSZH USB Cable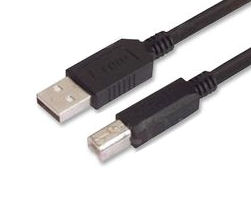 LSOH USB A- B
Description:
High Quality 1 Mtr Low smoke zero Halogen USB 2.0 Attachment Cable Port (A Plug -B Plug )

Low smoke zero halogen cable reduces the amount of toxic and corrosive gases emitted during combustion. Typically used in poorly ventilated areas, chosen by government / military contractors and anywhere the protection of people and equipment from toxic and corrosive gases is critical. This cable allows for simple plug and play connections.
USB 2.0 high performance transfer rates up to 480Mbps with twisted-pair data lines to help reduce crosstalk while 20AWG power conductors enable maximum power transfer from host to peripheral.
Features:
USB 2.0 transfer rates up to 480Mbps

Low smoke zero halogen cable

Twisted-pair data lines

Foil plus braid shield provides maximum protection against EMI/RFI
Specification:
U202-LSOH-01 1Mtr USB2 A-B LSOH Attachement Cable Port (A Plug -B Plug )