Partner Manufacturers
USB-8x8 Smart-e USB Matrix Switch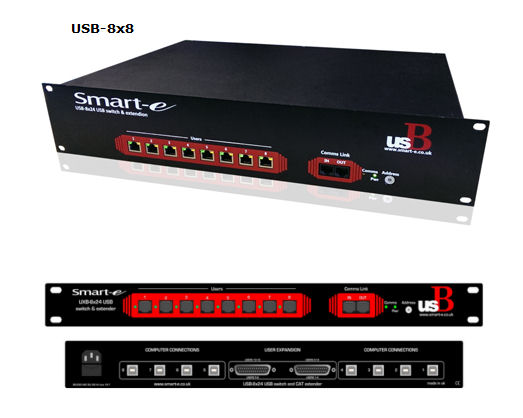 USB-8X8 Front and rewar view, unit is now a 1U size

Description:
The Smart-e USB-8x8 is a USB switch with Cat 5-8 outputs. The unit allows the selection and transmission of up to 8 different computers to up to 8 peripherals e.g. Touch screen, Mouse, Keyboard. The peripherals can be located at distances of up to 100m CAT 5-8 cable.

- CAN BE USED WITH SMART-E AV MATRIX SWITCH TO CREATE A KVM CONTROL MATRIX SOLUTION.


The USB-8x8 offers a cost effective solution of connecting multiple computers to multiple USB peripherals. Up to 8 independent PCs can be selected to up to 8 different peripherals. The peripherals can be located up to 100m from the PCs, connecting via Cat 5-8 cable.

High speed 36 Mbps connectivity is achievable for both USB V1.1 and V2 devices. Selection of PCs is via a RS422 control port on the front of the unit using standard Smart-e protocol. There is also a control panel option allowing individual user selection.

The unit can be populated with 8 way modules allowing flexible configurations to match system requiremen.

The USB-8x8 is designed to fit easily into standard 19" racks and is quick and easy to install with minimal configuration.
Features:
- CAN BE USED WITH SMART-E AV MATRIX SWITCH TO CREATE A KVM CONTROL MATRIX SOLUTION.


- Uses easy to install, inexpensive CAT5e-8
- Outputs reach up to 100m
- Supports USB v2.0 up to 36Mbps
- Single CAT5e-8 for USB and power
- Break before make switching
- Available as an 8x4 or 8x8
- Supplies remote power to receivers
- Simple RS422 control
- 4 port USB receiver hub
- High ground loop immunity
- Chassis fits standard 19" racks
- Uses Smart-e standard control protocol
- Independent control panel
Use with a Smart-e video matrix for integrated KVM solution
- 3 Year warranty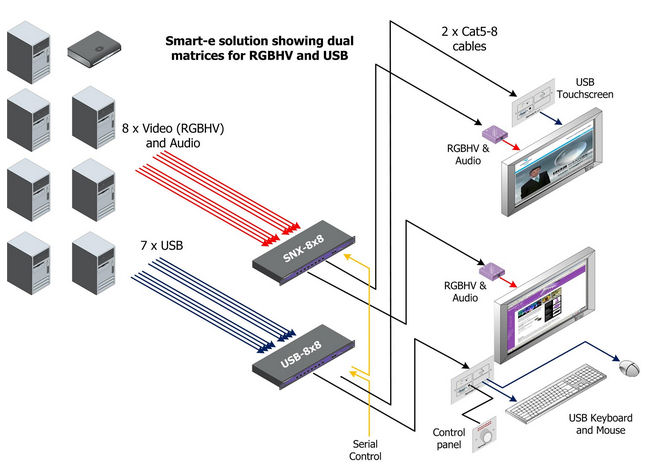 USB-8X8 setup showing how this unit can be used in conjunction with an AV matrix switch to produce a Matrix KVM solution.
Specification:
USB

Versions: V1.1 @ V2.0
Maximum Speed: Higher speed 36 Mbps
Connector transmitter : USB Type B
Connector receiver : USB Type A



POWER

Voltage 90-230V AC
Connector : IEC C14
Max Current: 1A A/S
Frequency 50/60 Hz



DIMENSIONS

Height: 1U
Width: 19"
Depth: 300mm
Weight: 5Kg



CONTROL

Control Signals: RS232
Control Connector: RJ45
Control Speed : 9600 baud
Control Type: Multi-drop