Partner Manufacturers - Product Information
M54-B-05 5m HDMI Premium Ultra HD 4Kx2K Ethernet v1.4 Nylon Braided- HDMI Cable.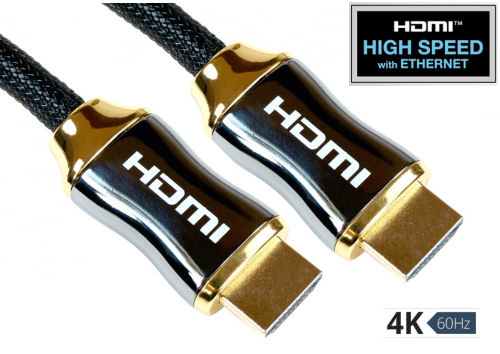 M54-B HDMI premium 4K
Description:
HDMI Plug - HDMI Plug High resolution Video cable.

This is a Premium Ultra HD 4K which complies to new HDMI standards. HDMI 2.0 cables are capable of carrying the increased bandwidth at up to 18Gbps.

HDMI (High-Definition Multimedia Interface) is a specification that combines video and audio into a single digital interface for use with DVD players, digital television (DTV) players, set-top boxes, and other audiovisual devices.
HDMI supports standard, enhanced, or high-definition video plus standard to multi-channel surround-sound audio.

Made with high quality gold plated contacts and connectors and with with Heavy Shielded, Heavy Duty outer sheath for better quality signal strength, these are our premier HDMI 4K Cables
Features:
HDMI Ethernet Channel – Connects devices through display to internet.
Audio Return Channel – Connects your home theatre system to display via one cable
3D Support – Enhance your visual experience with 3D enabled media
4K Support – Supports resolutions up to 4k x 2k for crisp and clear images
Stylish chrome effect metal connectors with nylon outer cable braid.
This is backwards compatible to all other HDMI specifications.

Specification:
- HDMI Male - Male
- 19 Pin Male Connectors
HDMI Type A Metal Connectors
HDMI High Speed with Ethernet (v1.4)
Gold plated
30AWG
Chrome Effect Metal Hood
Outer Braid

- Available in lengths of up to 10m
- Thicker Cable (lower AWG) used for longer assemblies to ensure the best and smoothest transmission of Digital Data and offer less signal path resistance