Partner Manufacturers
RX-USB2-H-A2-B 2 Port USB (2) Hub Black RX( A Ports Sockets)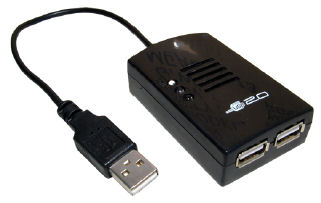 USB 2.0 Hub 2port version in Black
Description:
The NEWLink USB 2.0 External Bus Powered Hub is ideal for connecting low powered USB Devices, they are primarily designed for use with Laptop computers, but can be used with desktop machines. It is compatible with USB 1.1 and 2.0 Speeds.
Features:
• 2 OR 4 USB Ports Versions up to 100 mA per port.
• Supports over current protection.
• Supports High Speed (480 Mbps), Full Speed (12 Mbps) and Low
Speed (1.5 Mbps) transfer rates.
• Truely Plug & Play automatic system configuration.
• Chains up to 127 USB devices.
• Bus powered from USB port, no power adaptor needed
• Windows device driver installation.
• Suitable for mobile PC Environment.
• USB and ACPI compliant.
Specification:
• Interface standard: USB V2.0, 1.1.
• USB connectors: 2 Type A Female connectors and USB cable.
• Data transfer rate: High Speed 480 Mbps, Full Speed 12 Mbps and Low
Speed 1.5 Mbps.
• 2x LED's: 1x Bus power indication, 1x for USB downstream indication.
• Enclosure: Plastic
• EMI: CE & FCC

System Requirements:
• One Standard USB port
• Either of the following Operating Systems:
Windows 2000
Windows XP
Mac OS 8.6 or above for USB 1.1
Mac OS 10.1 or later for USB 2.0