Partner Manufacturers
US421 4 port USB 2.0 Peripheral Sharing Switch

Description:
US421 allows 4 computers to share the same USB peripheral under the foundation of one-at-a-time. Users can switch the computer controlling the peripheral from the simple hotkeys or buttons on the front panel or the control software on Windows. It is ideal for SOHO environments
Features:
Enables four computers to share a single USB peripheral device.
Hotkey, front panel pushbutton and Windows AP for simple port selection.
USB 2.0 compatible.
Supports transfer rates of 1.5/12/480 Mbps.
Overcurrent protection.
Bus powered.
LED indicators display port focus.
Beep indicates PC change and busy status.
Hot pluggable - USB devices can be attached and removedwithout resetting the system.
Plug and play.
OS Support:Windows 2000, Windows XP, Windows Vista, Mac and FreeBSD

*Hotkeys and AP program only operate on the Windows OS. Mac users must use the pushbutton to switch ports.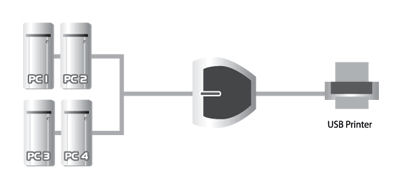 US421 setup
Specification:
Package Contents:

1x USB Peripheral Switch
1x USB Cable
1x Driver Disk
1x User Manual

Console Connection 4
PC Selection Hotkey, Pushbuttons, AP*
Connectors Computer Side 4 x USB Type B Female
Device Side 1 x USB Type A Female
LEDs Devices 1 (Orange)
Selected 4 (Green)
Switches 4 x Pushbutton
Power Supply Bus powered
Environment Operating Temperature 5-40˚C
Storage Temperature -20-60˚C
Humidity 0~80% RH, NC
Physical Properties Housing Plastic
Weight 97 g
Dimensions ( L x W x H ) 10.2 x 7.55 x 2.3cm


* Hotkeys and the AP program only operate on the windows OS, Mac users must use the pushbutton to switch ports.