Partner Manufacturers
ASUSB-201 USB (non-powered) Switch Connect 2PCs - 1 Printer Socket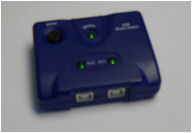 USB Printer Switch 2 Port version pictured.
Description:
2-1 USB (non powered) 2 PC's - 1 Printer Sockets


Our range of intelligent USB Share Switches are designed to share a USB Printer between 2
(USB) PC's. Primarily used for printer sharing, these intelligent switches
can also be used to connect up to 127 USB devices.


Features:
• 2 PC's share a USB printer or other USB Device
• Works with Windows 98/98SE/ME/2000/XP.
• Compliant with USB 1.1 Specification
• Supports UHCI and OHCI USB Interface
• Auto printer mode supports First Come First Serve
• Easy to share other USB devices


USB Printer Switch Ports 2 port version. 4 port version has 4 x USB B ports
Specification:
2-1 USB (non powered) 2 PC's - 1 Printer Sockets

• 2 PC's share a USB printer or other USB Device
• Works with Windows 98/98SE/ME/2000/XP.
• Compliant with USB 1.1 Specification
• Supports UHCI and OHCI USB Interface
• Auto printer mode supports First Come First Serve
• Easy to share other USB devices